Overview
Decanter centrifuge is a horizontal centrifuge with continuous feeding and continuous discharging. The settling speed is determined by particle size, particle shape, difference in density between solids and liquids as well as their viscosity.
1.All parts coming into contact with the product are made of stainless steel;
2.3-phase AC motor for controlled torque starting via frequency converter;
3.Approximately 80 to 90% of the oil is recovered;
4.Low personnel costs due to continuous and automatic operation;
5.Highest g-force for higher solids output;
6.Adjustable bowl speed via VFD;
7.Automatic adjustment of differential speed via VFD;
8.Two motor drive;
9.Belts for both primary motor and secondary.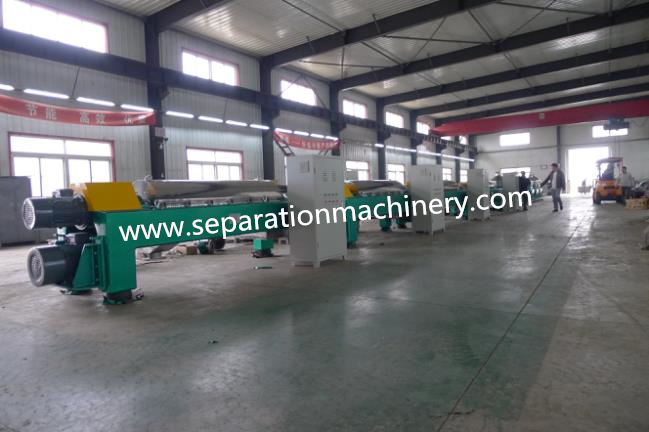 Decanter Centrifuge Separation Theorem
1.Feed slurry is introduced into the conveyor hub. As the feed accelerates to the machine speed, the slurry is delivered by centrifugal force into the rotating bowl by way of ports in the conveyor hub;
2.The solids settle through the liquor pool formed on the wall of the bowl. The solids are then conveyed, due to a slight differential between the screw conveyor and bowl, up the drying beach to the solids discharge ports;
3.The clarified liquors are discharge in the opposite direction from adjustable overflow ports.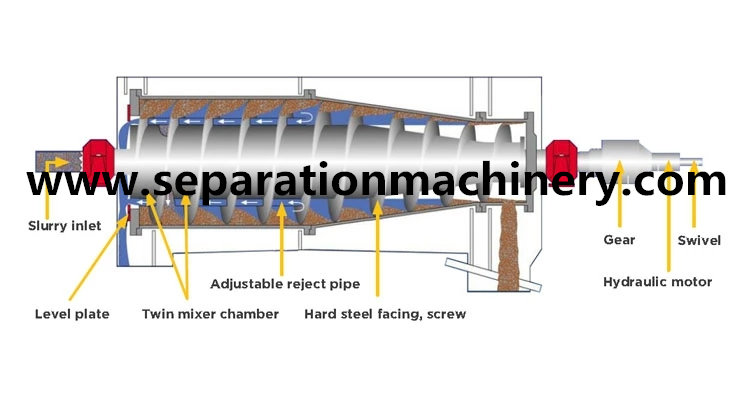 Application area
1.Optimum dewatering of industrial and municipal sludge
2.Optimized thickening of surplus sludge
3.Partial dewatering of sludge for use in agriculture
3.Treatment of industrial waste water
4.Drinking water treatment
Technical Parameter
| | | | | | | | | |
| --- | --- | --- | --- | --- | --- | --- | --- | --- |
| Model | Bowl Diameter mm | Bowl Lengthmm | Rotating speed (rpm) | Separation factor | Processing capacity (m3/h) | Motor power (kw) | Dimensions (L*W*H)(mm) | Weight (kg) |
| LW220*930 | 220 | 930 | 5000 | 2835 | 0.5-5 | 7.5 | 2420*700*1010 | 1200 |
| LW300*1200 | 300 | 1200 | 4000 | 2550 | 1-5 | 7.5-11 | 2680*830*1280 | 1500 |
| LW355*1600 | 355 | 1600 | 3800 | 2868 | 1-20 | 15-18.5 | 3490*860*1200 | 1850 |
| LWS400*1200 | 400 | 1200 | 3650 | 3000 | 1-5 | 15-18.5 | 2990*960*1205 | 2500 |
| LW(S)400*1800 | 400 | 1800 | 3650 | 3000 | 2-25 | 15-22 | 3890*1020*1205 | 2500 |
| LW(S)450*2000 | 450 | 2000 | 3450 | 3000 | 3-35 | 22-37 | 4297*1080*1385 | 3000 |
| LW(S)500*2000 | 500 | 2000 | 3000 | 2500 | 5-45 | 30-37 | 4330*1140*1470 | 3800 |
| LW(S)530*2280 | 530 | 2280 | 2900 | 2500 | 15-65 | 45-55 | 4924*1170*1540 | 5000 |
| LW580*2500 | 580 | 2500 | 2780 | 2500 | 20-80 | 55-75 | 6500*1270*1540 | 5205 |
| LW650*2800 | 650 | 2800 | 2500 | 2270 | 20-110 | 75-90 | 6500*1270*1540 | 7000 |
| LW760*3040 | 760 | 3040 | 2250 | 2150 | 30-150 | 90-132 | 6500*1270*1540 | 8500 |
Centrifuge Catalogues