Vertical leaf filter belongs to one kind of pressure filtration equipment. Under pressure, the solid particles in the filtrate will be trapped on the filter leaves, and the filter cake is formed gradually. Under pressure, the filtrate goes through the filter cake. Then the filtrate outflow tube body through the filter tip. At last, you can get clear filtrate.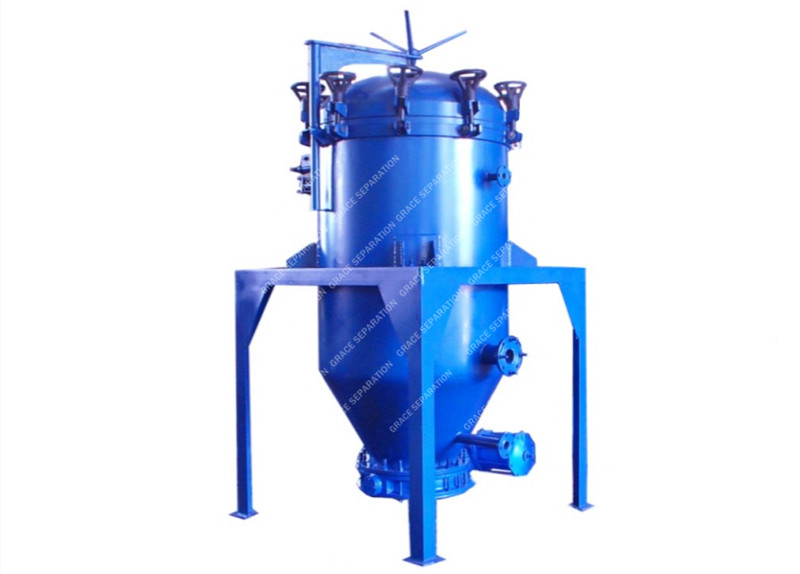 Products Features
Compact structure, small footprint.
SS304/316 filter mesh, good filter effect, low loss.
Automatic vibration cake discharging, low labor intensity.
Closed design. Clean working environment.
Two sets in parallel to realize continuous production.
Application industries
Vertical leaf filter can be used for below industries and get good effect:
- Crude oil filtration
- Miscella filtration
- Bleached and/or detoxified oil filtration
- Deodorized oil filtration
- Winterized oil filtration
- Hydrogenation
- Post bleaching
- Safety filtration
-Polishing filtration

Structure and technical parameters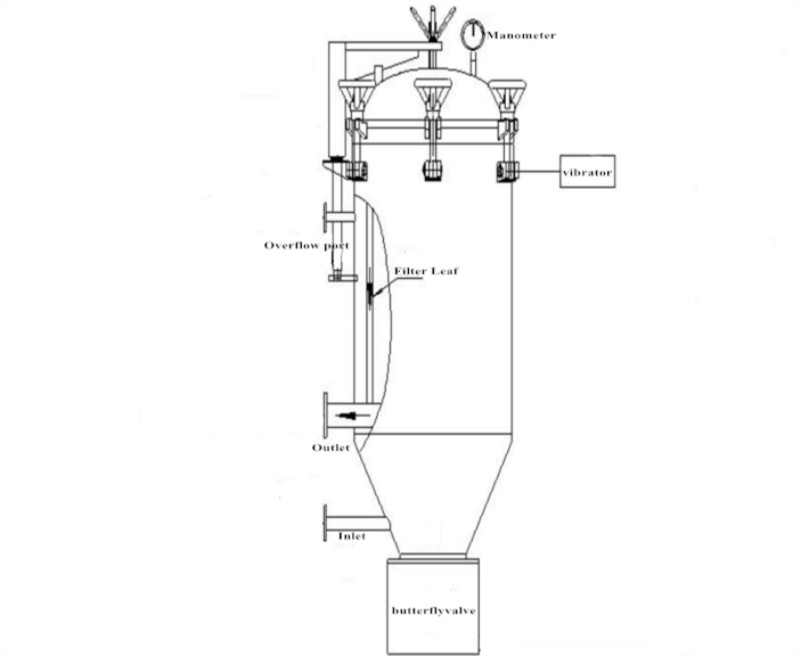 Model
Filter area(m2)
Diameter (mm)
Cake Volume (L)
Capacity(t/h)
Height (mm)
Weight(kg)
Oil
Resin
Drink
GL-2
2
400
30
0.4-0.6
1-1.5
1-3
1600
350
GL-4
4
550
60
0.5-1.2
2-3
2-5
1950
460
GL -7
7
650
105
1-1.8
3-6
4-7
2150
890
GL -10
10
800
150
1.6-3
5-8
6-9
2300
1200
GL -15
15
900
300
3-5
7-12
10-13
2400
1500
GL -20
20
1100
400
4-6
9-15
12-17
2500
1800
GL -30
30
1200
600
6-8
14-23
19-25
2600
2500
GL -40
40
1300
800
8-11
21-34
30-38
3000
3400
GL -50
50
1400
1040
10-15
27-45
42-51
3300
3800
GL -60
60
1500
1200
11-17
36-60
56-68
3500
4500
GL -80
80
1600
1600
13-21
40-68
64-78
3800
6000
Related data:
Design temperature: ≤150℃

Liquid in the residue: ≤0.5%
Solid in the filtrate:≤0.02%

Working pressure:0.4 Mpa
Reference flow chart