Overview
LW series decanter centrifuge is a horizontal centrifuge with continuous feeding and continuous discharging. It has two-phase (solid-liquid) separation and three-phase (solid-liquid-liquid) separation.The decanter centrifuge is suitable for solid-phase dewatering, liquid-phase clarification and separation.
Decanters with slow rotation speeds are normally based on horizontal separation technology. Decanter ensure optimum separation efficiency in the case of suspensions with a very high proportion of solid. They are also used for the extraction constituents from liquids and for concentrating, dewatering and classfying solids.
The machine can be mainly used to deal with all kinds of fine solid particles,solid particle diameter 0.005-15mm,the concentration of 1-40%,suspension temperature<100℃.Also can be used for dealing solid density which is higher than liquid density and liquid emulsion with density difference three phases mixture separation(liquid-liquid-solid),it can also be used to handle liquid-solid suspension and grading of the particles.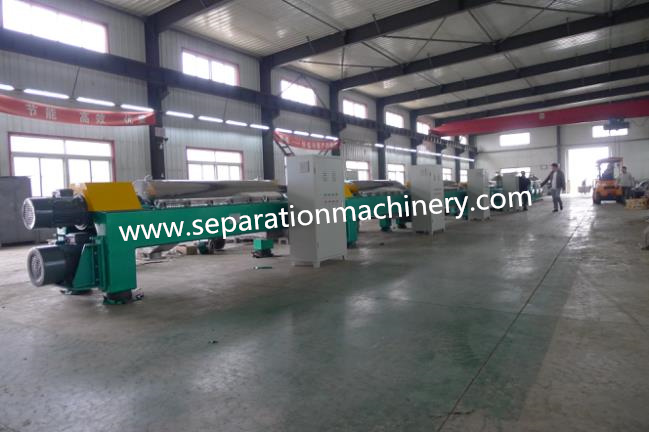 Working principle
Horizontal spiral centrifuge relies on the density difference between solid and liquid, under the effect of centrifugal force to accelerate the sedimentation rate of the solid particles to achieve solid-liquid separation.The machine consists of drum,scroll conveyor,gear box,frame and motor etc.Bowl and scroll conveyor rotates at the same direction with high speed,drum and scroll conveyor's speed differences about 2-30rpm under the effect of differential.The liquid goes into high speed rotating drum through the inlet,under the effect of centrifugal force,large density suspension rapidly accumulated in the drum and forming sediment layer,also constantly pushed to the drum small end and discharged from drum by the discharging screw.Clarified liquid constantly discharged from bowl through the drum big end flow opening, so as to achieve suspension liquid-solid separation.For example,liquid contains light and heavy two-phase emulsion,then as the different gravity,forming light and heavy liquid circle,and divided by the drum big end plate,light liquid pass through centripetal pump discharged from light liquid outlet,heavy liquid discharged from heavy liquid outlet,so as to achieved solid-liquid-liquid separation.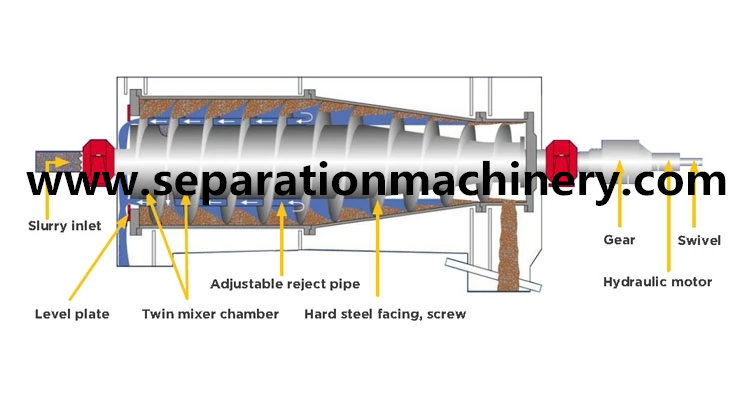 TYPICAL APPLICATIONS
| | | | |
| --- | --- | --- | --- |
| Industry | Beverage | Biotechnology | Fat and oil |
| Application | 1.Fruit and vegetable juices 2.Coconut milk | 1.Algae Harvesting 2.fermented liquid manure | 1.Fish oil 2.Animal fats 3.Olive oil 4.Avocado oil 5.Palm oil 6.Coconut oil |
| Industry | Food | Environmental Field | Chemical |
| Application | 1.Starch 2.Soybean protein 3.Peanut protein 4.Grain stillage | 1.Effluent Sludge 2.Domestic Sewage 3.Slaughterhouse 4.Blood Powder Treatment 5.Pigs and Cattle Manure 6.Biological Sludge 7.Paper Wastewater Treatment 8.Dyeing Waste Water 9.Drilling Mud 10.Leather sludge 11.Electroplating liquid | 1.PVC Dewatering 2.Lysine Dewatering 3.Ammonium sulfite 4.Calcarea carbonica 5.Kaolin |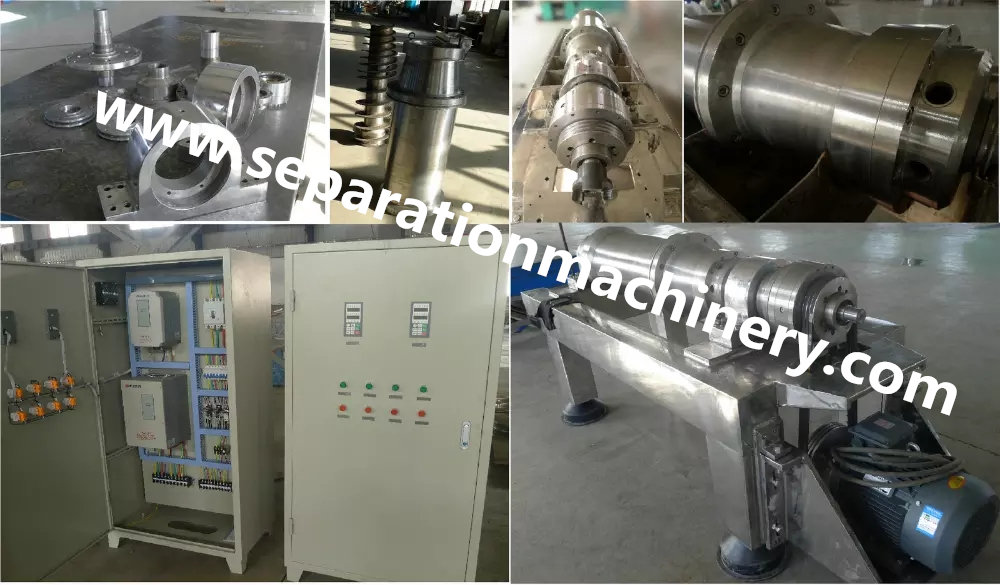 Technical Parameter
| | | | | | | | | |
| --- | --- | --- | --- | --- | --- | --- | --- | --- |
| Model | Bowl Diameter mm | Bowl Lengthmm | Rotating speed (rpm) | Separation factor | Processing capacity (m3/h) | Motor power (kw) | Dimensions (L*W*H)(mm) | Weight (kg) |
| LW220*930 | 220 | 930 | 5000 | 2835 | 0.5-5 | 7.5 | 2420*700*1010 | 1200 |
| LW300*1200 | 300 | 1200 | 4000 | 2550 | 1-5 | 7.5-11 | 2680*830*1280 | 1500 |
| LW355*1600 | 355 | 1600 | 3800 | 2868 | 1-20 | 15-18.5 | 3490*860*1200 | 1850 |
| LWS400*1200 | 400 | 1200 | 3650 | 3000 | 1-5 | 15-18.5 | 2990*960*1205 | 2500 |
| LW(S)400*1800 | 400 | 1800 | 3650 | 3000 | 2-25 | 15-22 | 3890*1020*1205 | 2500 |
| LW(S)450*2000 | 450 | 2000 | 3450 | 3000 | 3-35 | 22-37 | 4297*1080*1385 | 3000 |
| LW(S)500*2000 | 500 | 2000 | 3000 | 2500 | 5-45 | 30-37 | 4330*1140*1470 | 3800 |
| LW(S)530*2280 | 530 | 2280 | 2900 | 2500 | 15-65 | 45-55 | 4924*1170*1540 | 5000 |
| LW580*2500 | 580 | 2500 | 2780 | 2500 | 20-80 | 55-75 | 6500*1270*1540 | 5205 |
| LW650*2800 | 650 | 2800 | 2500 | 2270 | 20-110 | 75-90 | 6500*1270*1540 | 7000 |
| LW760*3040 | 760 | 3040 | 2250 | 2150 | 30-150 | 90-132 | 6500*1270*1540 | 8500 |
Centrifuge Catalogues