Introduction:
Automatic Filter Press is widely applied on solid-liquid separation to reduce the water content of material and extremely improve the production efficiency of chemical, pharmacy, mining industries.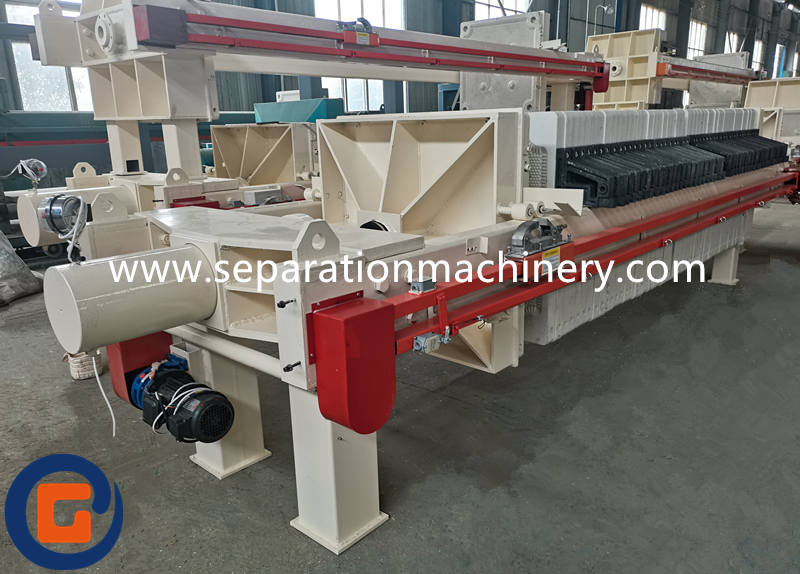 Working principle:
Filtration: The way the filtrate flows, the clear stream filtration and the dark stream filtration. Open stream filtration, the outlet holes under each filter panel are provided with a nozzle which flows intuitively from the nozzle. Underflow filtration, each filter plate is provided with an outlet channel hole, and the outlet holes of several filter plates are connected into a outlet channel, which is discharged by a pipe connected with the outlet hole under the thrust plate.
Wide applicability:
Used in tailings, machine sand, kaolin, river silt, metallurgy, chemical, environmental protection, food, pharmaceutical, textile printing and dyeing, profile manufacturing, wine making and other industries.
Technical Parameters:
Model
Filter area(m2)
Plate size(mm)
Cake thickness(mm)
Filter chamber volume(L)
Number of filter plate(PCS)
Pressure(Mpa)
Weight (kg)
Dimension(L*W*H)(mm)
XZ/800-30U
30
800*800
30
480
29
0.5-1.5
2080
3650*1200*1160
40
640
39
2380
4210*1200*1160
50
800
49
2700
4770*1200*1160
60
960
59
3060
5330*1200*1160
XZ/870-30U
50
870*870
30
760
37
0.5-1.5
3580
4220*1300*1250
60
920
45
3980
4710*1300*1250
70
1080
53
4500
5200*1300*1250
80
1200
59
5200
5560*1300*1250
XZ/1000-30U
80
1000*1000
30
1303
46
0.5-1.5
3470
5160*1500*1350
90
1468
52
4040
5525*1500*1350
100
1635
58
4360
5890*1500*1350
120
1966
70
4960
6620*1500*1350
XZ/1250-30U
120
1250*1250
30
1800
44
0.5-1.5
6600
5410*1750*1600
140
2120
52
7200
5940*1750*1600
150
2280
56
7500
6200*1750*1600
160
2400
59
7750
6400*1750*1600
180
2720
67
8500
7230*1750*1600
200
3000
74
9000
7690*1750*1600
250
3800
93
10500
9015*1750*1600
XZ/2000-30U
500
2000*2000
40
7450
68
0.5-1.5
36500
10140*3030*2400
600
8960
82
40000
11275*3030*2400
800
11990
110
48000
13540*3030*2400
1000
14900
127
56000
14920*3030*2400