Introduction:
Mini small scale SS Filter Press is an ideal equipment for solid-liquid separation with small capacity,it is widely applied to many industries,such as municipal wastewater treatment, metallurgy, leather sludge etc, it can also work with conveyor and feeding pump,high efficiency,saving time and labor cost.
Working principle:
Each filter press operation includes the following steps:
1, Start the filter press:
Start the machine, pull filter plate to form filter chamber.
2, Filling the filter chamber:
During this short phase chamber are filled with sludge for filtration. Filling time depends on the flow of the feed pump.
3, Filtration:
Once the chamber have been filled continuous arrival of sludge to be dewatered provokes a rise in pressure due to the formation of an increasingly thick layer of filter sludge on the cloths. This filtration phase can be stopped manually, by a timer or more conveniently by a filtrate flow indicator which issues a stop alarm when the end of filtration rate has been reached.
4, Open filter plate, discharge filter cake:
The moving head is drawn back to disengage the first filtration chamber, the cake falls has a result of his own weight.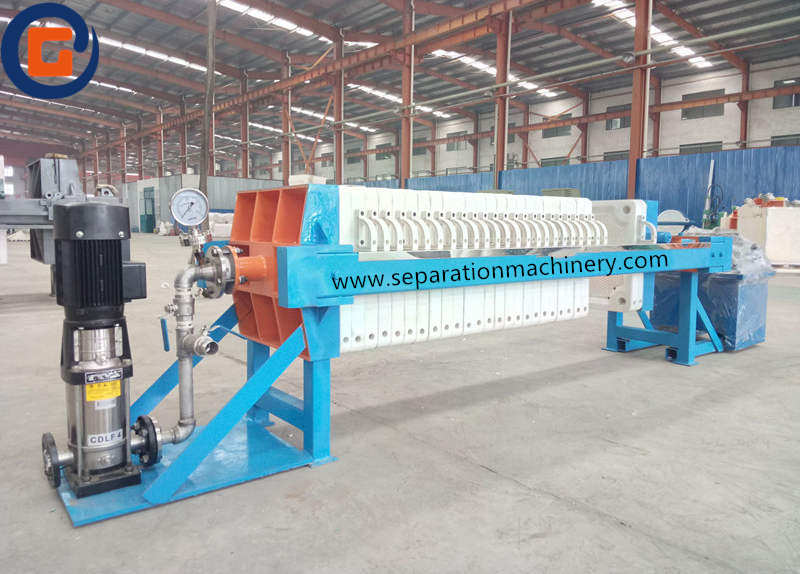 Application:
1, Chemical industry:
Coating, paint, silica, caustic soda, soda ash, alkali, salt mud (aluminum, aluminum polymerization acetylacetonate, gypsum, insurance, phosphor) etc.
2, Food industry:
Vegetable oil, starch sugar, plant sweet, maltose, starch, maize, seaweed, kara glue, oral liquid, beer yeast, rice wine, white wine, fruit juice, beverage, plant protein etc.
3, Pharmacy industry:
Phytic acid, calcium, Chinese traditional medicine, saccharification, growth hormone, organophosphate etc.
4, Other solid liquid separation industries.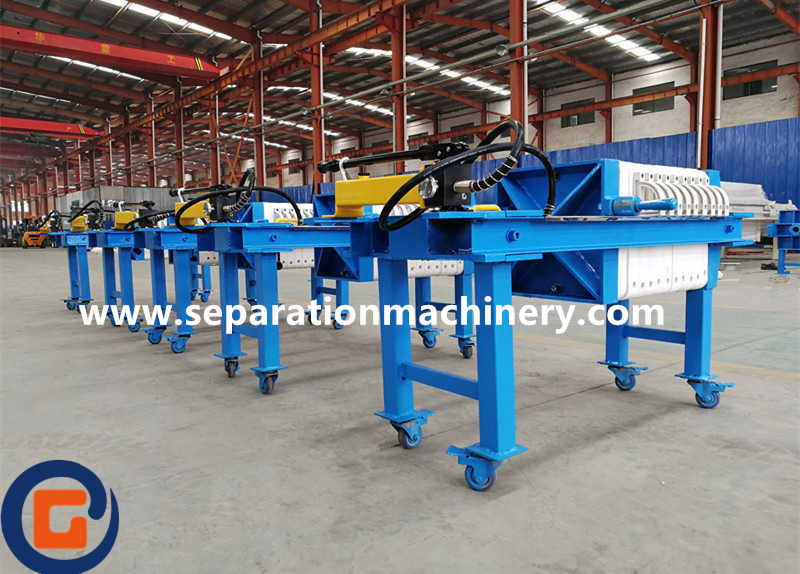 Technical Parameters:
Model
Filter area(m2)
Plate size(mm)
Cake thickness(mm)
Filter chamber volume(L)
Number of filter plate(PCS)
Pressure(Mpa)
Weight (kg)
Dimension(L*W*H)(mm)
XY/520-25U
4
520*520
25
40
9
0.5-1.5
560
1915*700*860
6
60
14
630
2145*700*860
8
80
19
700
2375*700*860
12
120
29
830
2835*700*860
16
160
39
980
3295*700*860
18
176
44
1160
3525*700*860
20
200
49
1360
3755*700*860
XY/700-25U
20
700*700
25
250
24
0.5-1.5
2210
3120*1100*1100
30
380
37
2660
3785*1100*1100
40
500
49
3080
4395*1100*1100
XY/800-30U
30
800*800
30
480
29
0.5-1.5
2080
3650*1200*1160
40
640
39
2380
4210*1200*1160
50
800
49
2700
4770*1200*1160
60
960
59
3060
5330*1200*1160
XY/870-30U
50
870*870
30
760
37
0.5-1.5
3580
4220*1300*1250
60
920
45
3980
4710*1300*1250
70
1080
53
4500
5200*1300*1250
80
1200
59
5200
5560*1300*1250
XY/1000-30U
80
1000*1000
30
1303
46
0.5-1.5
3470
5160*1500*1350
90
1468
52
4040
5525*1500*1350
100
1635
58
4360
5890*1500*1350
120
1966
70
4960
6620*1500*1350
XY/1250-30U
120
1250*1250
30
1800
44
0.5-1.5
6600
5410*1750*1600
140
2120
52
7200
5940*1750*1600
150
2280
56
7500
6200*1750*1600
160
2400
59
7750
6400*1750*1600
180
2720
67
8500
7230*1750*1600
200
3000
74
9000
7690*1750*1600
250
3800
93
10500
9015*1750*1600