Introduction of Filter Press
Polypropylene Membrane Mining Filter Press Machine For Russia adopts international advanced TPE membrane technology, so that ensure stable performance and long life-span, and widely used for various industries.
Cake from membrane filter press can be secondarily squeezed under max 1.6MPa by water to realize the lowest cake residual moisture. In some wastewater treatment industries, the final cake can be used for landfill or burning directly.
The membrane filter press can realize fully automatic operation with flexible devices, such as: belt conveyor, drip tray, cloth washing system, etc.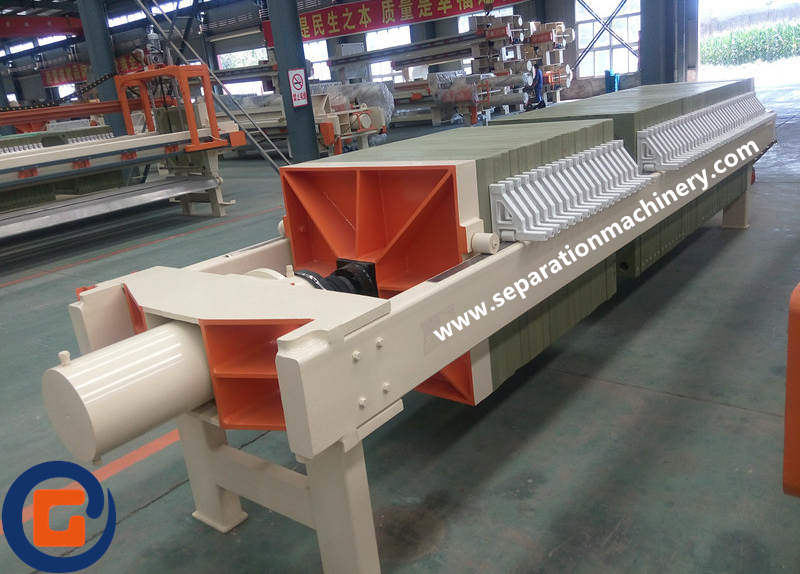 Working principle of Membrane Filter Press
1.Feeding: Slurry is pumped into the filter press. The solids are distributed evenly on the filter cloths during the feed (fill) cycle.
2.Filtration: Solids begin to build on the filter cloth, trapping the ensuing particles and building a filter cake. The filter cake acts as a depth filter for solid/liquid separation. Filtrate exits the plates through the corner ports into the manifold.
3.Filtration completed: When the correct valves in the manifold are open, the filtrate exits the press through the filtrate outlet. As the filter press feed pump builds pressure, the solids build within the chambers until they are completely full of filter cake.
4.Membrane Squeezing: Once the chambers are full, the fill cycle is over, high pressure water or compressed air will start fill in between membranes of filter plates, pushing the membrane toward the filter cakes, squeezing the filter cakes to remove any residue water.
5.Pressure relief: when squeezing is over, high pressure water(compressed air) is released from between the membranes.
6.Cake discharge: after pressure relived, the filter press is ready to discharge cakes.
(* Note: 4, 5 is only for membrane filter press)

The filter plates of membrane type filter press consists of two kinds filter plates: membrane filter plate (whose surface is flat) and chamber plate (which as depth for filter cake storage). The filtering process as following. Under the pressure of feeding pump, material is pumped into filter chamber, solid and liquid are separated by filter medium (filter cloth). After filter cakes formed, the compressed air will be blown into the membrane plate and inflate it to squeeze cake, thus realize lower moisture. Membrane filter press specially applies to viscous material and users who require a strict cake dryness.
Filter plates are made from reinforced PP by mould pressing. Membranes are recessed with PP plates integrally. They are firm and steady, not easy to fall off, and enjoy long.
Advantages of Membrane Filter Press
1. Low cake moisture
2. Unmanned operation and cost saving
3. Resist high temperature and corrosion
4. Good sealing effect can perfectly avoid leskage
5. Can realize twice squeezing (first squeeze by filter press, second squeeze by air or water)
Application of membrane filter press
Automatic membrane filter perss specially apply to easy volatile, toxic, Irritating material or mining industry, or users who request good operating environment and low cake moisture.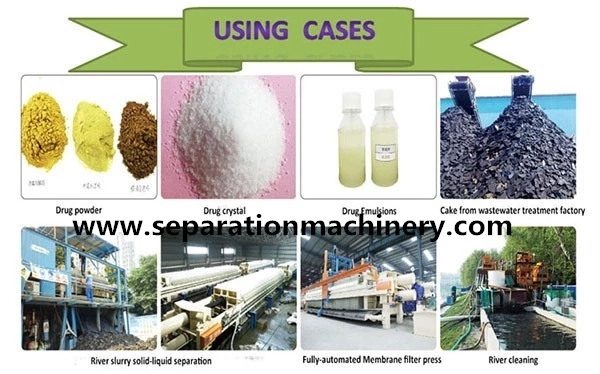 Technical Parameters
Model
Filter area
(m2)
Plate size
(mm)
Cake thickness (mm)
Filter chamber volume (L)
Number of plates (pcs)
Filtration pressure (MPa)
Motor power
(Kw)
Total weight
(kgs)
Overall dimension
LxWxH (mm)
XGZ30/870-U
30
870×870
<= 35
498
23
>=0.8
2.2
3046
3880*1250*1300
XGZ40/870-U
40
623
30
3593
4270*1250*1300
XGZ50/870-U
50
789
38
4057
4790*1250*1300
XGZ60/870-U
60
955
46
4597
5310*1250*1300
XGZ70/870-U
70
1121
54
5136
5830*1250*1300
XGZ80/870-U
80
1287
62
5636
6350*1250*1300
XGZ50/1000-U
50
1000×1000
<=35
776
28
>=0.8
4
4352
4270*1500*1400
XGZ60/1000-U
60
943
34
4480
4770*1500*1400
XGZ70/1000-U
70
1109
40
5263
5130*1500*1400
XGZ80/1000-U
80
1275
46
5719
5560*1500*1400
XGZ100/1000-U
100
1608
57
6555
6410*1500*1400
XGZ120/1000-U
120
1941
69
7466
7260*1500*1400
XGZ80/1250-U
80
1250x1250
<= 40
1560
29
>=0.8
5.5
10900
4830*1800*1600
XGZ100/1250-U
100
1975
37
11750
5440*1800*1600
XGZ120/1250-U
120
2391
45
12600
6060*1800*1600
XGZ150/1250-U
150
2911
55
13620
6820*1800*1600
XGZ160/1250-U
160
3119
59
14470
7130*1800*1600
XGZ200/1250-U
200
3847
73
15320
8200*1800*1600
XGZ240/1250-U
240
4679
89
16170
9420*1800*1600
XGZ250/1250-U
250
4783
91
17020
9570*1800*1600
XGZ200/1500-U
200
1500x1500
<=40
3809
49
>=0.8
11
26120
7140*2200*1820
XGZ250/1500-U
250
4723
61
26930
7730*2200*1820
XGZ300/1500-U
300
5637
73
28160
8720*2200*1820
XGZ350/1500-U
350
6551
85
29600
10110*2200*1820
XGZ400/1500-U
400
7618
99
31500
11260*2200*1820
XGZ450/1500-U
450
8532
111
33400
12250*2200*1820
XGZ500/1500-U
500
9446
123
33380
13240*2200*1820
XGZ600/2000-U
600
2000x2000
<= 40
11901
85
>=0.8
15
54164
13030*3000*2500
XGZ700/2000-U
700
13838
99
58300
14390*3000*2500
XGZ800/2000-U
800
14945
107
62460
15770*3000*2500
XGZ900/2000-U
900
17713
127
66620
17150*3000*2500
XGZ1000/2000-U
1000
19651
141
70780
18530*3000*2500