Introduction:
Filter press equipment is a simple machine which separates the solid contained in a watery mixture from the water, in order to recover the water itself and reuse it in any production cycle. The Filter press equipment produces also dry cakes easy to be disposed. The simplicity of the machine guarantees high-efficiency and reliability.
Simple in operation, safe and labor saving, the whole filter press system are auto controlled by the electrical panel. All devices including feed pump, hydraulic power pack, plate shifting device, valves and conveyors are guided by the logic in PLC, and make them work more efficiently.
Other special filter press automatic functions also can be added such as filter cloth washing system, filtrate collecting system, filter cloth shaking system, drip tray system etc.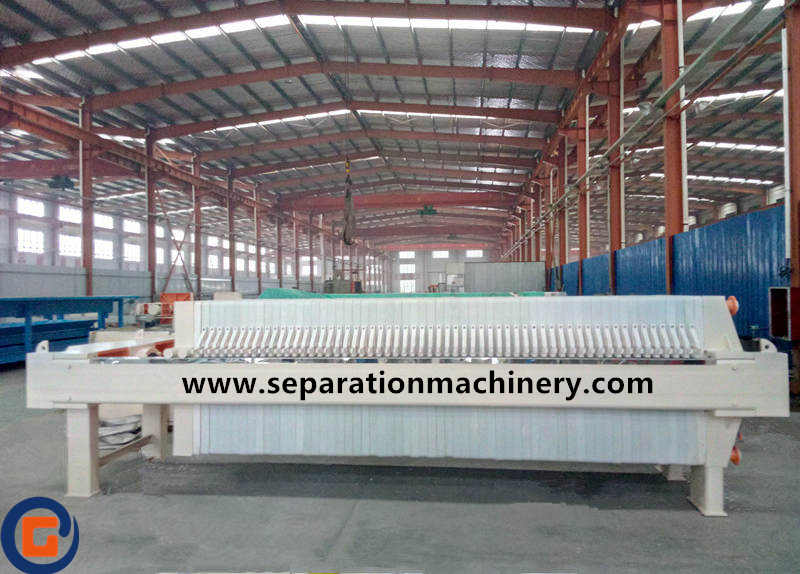 The Filtration Process:
How does the Filter press equipment carry out the filtration process? The feeding pump injects the slurry into the filter press from the feeding head. The chambers created by the plates are filled up with the slurry, the cloth (specifically developed for each material) and the high pressure dry the cakes, faster and better. The clean water is discharged into drainage gutters, ready to be reused, and the cakes can now be disposed of easily.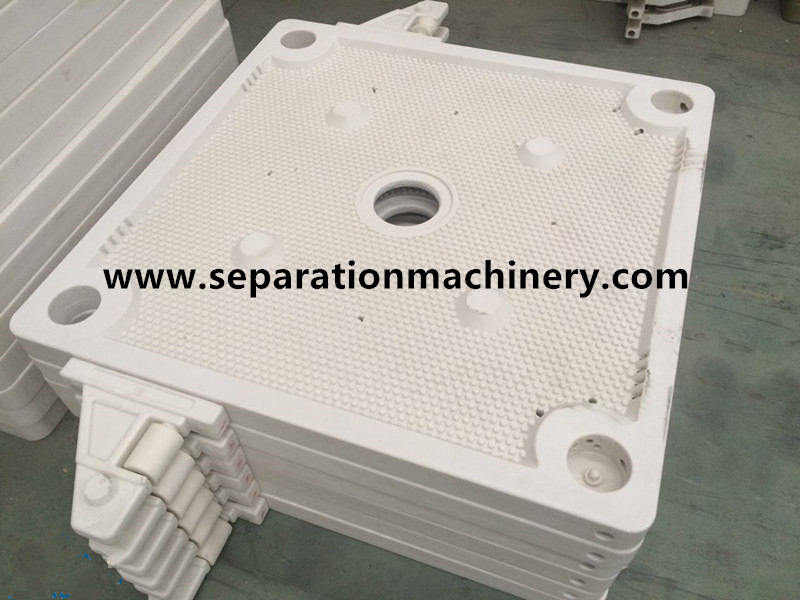 Technical Data:
Model
Filter area(m2)
Plate size(mm)

Cake

thickness

(mm)

Filter chamber volume(L)
Number of filter plate(PCS)
Pressure(Mpa)
Weight (kg)
Dimension(L*W*H)(mm)
XAMY/520-25U
4
520*520
25
40
9
0.5-1.5
560
1915*700*860
XAMY/520-25U
6
520*520
25
60
14
0.5-1.5
630
2145*700*860
XAMY/520-25U
8
520*520
25
80
19
0.5-1.5
700
2375*700*860
XAMY/520-25U
12
520*520
25
120
29
0.5-1.5
830
2835*700*860
XAMY/520-25U
16
520*520
25
160
39
0.5-1.5
980
3295*700*860
XAMY/520-25U
18
520*520
25
176
44
0.5-1.5
1160
3525*700*860
XAMY/520-25U
20
520*520
25
200
49
0.5-1.5
1360
3755*700*860
XAMY/700-25U
20
700*700
25
250
24
0.5-1.5
2210
3120*1100*1100
XAMY/700-25U
30
700*700
25
380
37
0.5-1.5
2660
3785*1100*1100
XAMY/700-25U
40
700*700
25
500
49
0.5-1.5
3080
4395*1100*1100
XAMY/800-30U
30
800*800
30
480
29
0.5-1.5
2080
3650*1200*1160
XAMY/800-30U
40
800*800
30
640
39
0.5-1.5
2380
4210*1200*1160
XAMY/800-30U
50
800*800
30
800
49
0.5-1.5
2700
4770*1200*1160
XAMY/800-30U
60
800*800
30
960
59
0.5-1.5
3060
5330*1200*1160
XAMY/870-30U
50
870*870
30
760
37
0.5-1.5
3580
4220*1300*1250
XAMY/870-30U
60
870*870
30
920
45
0.5-1.5
3980
4710*1300*1250
XAMY/870-30U
70
870*870
30
1080
53
0.5-1.5
4500
5200*1300*1250
XAMY/870-30U
80
870*870
30
1200
59
0.5-1.5
5200
5560*1300*1250
XAMY/1000-30U
80
1000*1000
30
1303
46
0.5-1.5
3470
5160*1500*1350
XAMY/1000-30U
90
1000*1000
30
1468
52
0.5-1.5
4040
5525*1500*1350
XAMY/1000-30U
100
1000*1000
30
1635
58
0.5-1.5
4360
5890*1500*1350
XAMY/1000-30U
120
1000*1000
30
1966
70
0.5-1.5
4960
6620*1500*1350
XAMY/1250-30U
120
1250*1250
30
1800
44
0.5-1.5
6600
5410*1750*1600
XAMY/1250-30U
140
1250*1250
30
2120
52
0.5-1.5
7200
5940*1750*1600
XAMY/1250-30U
150
1250*1250
30
2280
56
0.5-1.5
7500
6200*1750*1600
XAMY/1250-30U
160
1250*1250
30
2400
59
0.5-1.5
7750
6400*1750*1600
XAMY/1250-30U
180
1250*1250
30
2720
67
0.5-1.5
8500
7230*1750*1600
XAMY/1250-30U
200
1250*1250
30
3000
74
0.5-1.5
9000
7690*1750*1600
XAMY/1250-30U
250
1250*1250
30
3800
93
0.5-1.5
10500
9015*1750*1600