Introduction:
Small Capacity Manual Hydraulic Filter Press, has the characteristics of simple structure, convenient operation, no power supply, and economical and practical. It is generally used for filter presses with a filtration area of 1 to 40 meters.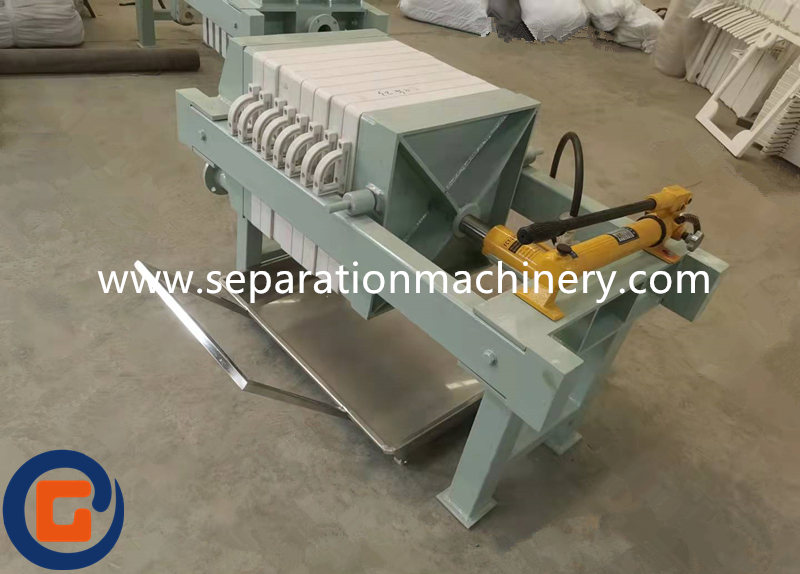 Application:
1, Chemical industry:
Coating, paint, silica, caustic soda, soda ash, alkali, salt mud (aluminum, aluminum polymerization acetylacetonate, gypsum, insurance, phosphor) etc.
2, Food industry:
Vegetable oil, starch sugar, plant sweet, maltose, starch, maize, seaweed, kara glue, oral liquid, beer yeast, rice wine, white wine, fruit juice, beverage, plant protein etc.
3, Pharmacy industry:
Phytic acid, calcium, Chinese traditional medicine, saccharification, growth hormone, organophosphate etc.
4, Other solid liquid separation industries.
Technical Parameters:
Model
Filter area(m2)
Plate size(mm)
Cake thickness(mm)
Filter chamber volume(L)
Number of filter plate(PCS)
Pressure(Mpa)
Weight (kg)
Dimension(L*W*H)(mm)
XY/520-25U
4
520*520
25
40
9
0.5-1.5
560
1915*700*860
6
60
14
630
2145*700*860
8
80
19
700
2375*700*860
12
120
29
830
2835*700*860
16
160
39
980
3295*700*860
18
176
44
1160
3525*700*860
20
200
49
1360
3755*700*860
XY/700-25U
20
700*700
25
250
24
0.5-1.5
2210
3120*1100*1100
30
380
37
2660
3785*1100*1100
40
500
49
3080
4395*1100*1100
XY/800-30U
30
800*800
30
480
29
0.5-1.5
2080
3650*1200*1160
40
640
39
2380
4210*1200*1160
50
800
49
2700
4770*1200*1160
60
960
59
3060
5330*1200*1160
XY/870-30U
50
870*870
30
760
37
0.5-1.5
3580
4220*1300*1250
60
920
45
3980
4710*1300*1250
70
1080
53
4500
5200*1300*1250
80
1200
59
5200
5560*1300*1250
XY/1000-30U
80
1000*1000
30
1303
46
0.5-1.5
3470
5160*1500*1350
90
1468
52
4040
5525*1500*1350
100
1635
58
4360
5890*1500*1350
120
1966
70
4960
6620*1500*1350
XY/1250-30U
120
1250*1250
30
1800
44
0.5-1.5
6600
5410*1750*1600
140
2120
52
7200
5940*1750*1600
150
2280
56
7500
6200*1750*1600
160
2400
59
7750
6400*1750*1600
180
2720
67
8500
7230*1750*1600
200
3000
74
9000
7690*1750*1600
250
3800
93
10500
9015*1750*1600