Simple Introduction:
■ Application scope: Bulk screening for granules and powder in chemical industry, food industry, metallurgy/mining industry, medical industry etc..
■ Usage : Removing impurities or grading
■ Capacity : 0.1-10 CBM/HOUR.
■ Delivery detail : 10-15 working days.
Introduction:
Linear vibrating separator use excellent vibrating motor as power source, that the materials can be thrown up on the sieve and forward to make a straight movement. It can be equipped with single or multi-screen to achieve the grading, removing impurity, removing dust, testing, washing selecting, dehydration etc.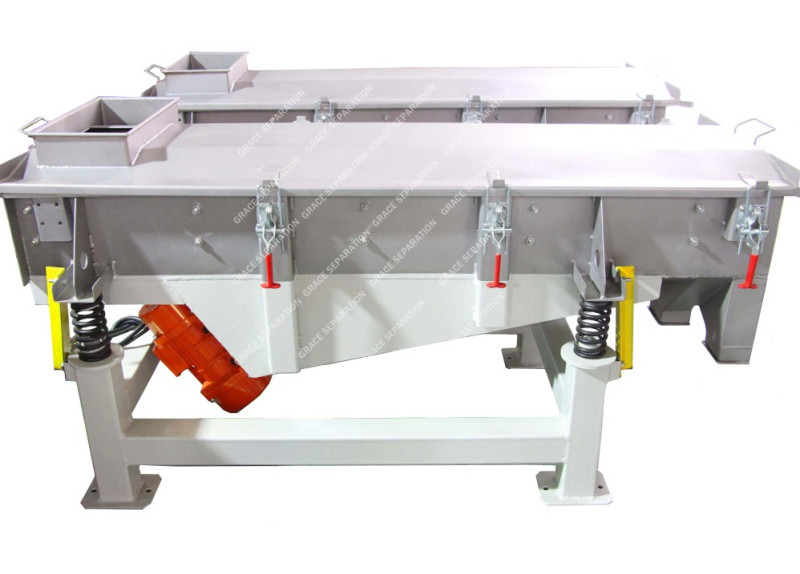 Features of linear vibrating separator
Easy to operate and maintain.
Low consumption with high yield and low cost.
Good sealing without dust flying.
1-7 layers available for use.
Material auto discharge, continuous operation.
Structure and technical Parameters:

Model
GZX-520
GZX-525
GZX-1020
GZX-1025
GZX-1030
Screen Size(mm)
500x2000
500x2500
1000x2000
1000x2500
1000x3000
Material Granularity
0.074 - 10 mm
Angle
1°-7°
1°-7°
1°-7°
1°-7°
1°-7°
Amplitude(mm)
3-5
3-5
3-5
3-5
3-5
Layer
1-6
1-6
1-6
1-6
1-6
Power
2x(0.37-0.75)
2x(0.37-0.75)
2x(0.55-1.1)
2x(0.55-1.1)
2x(0.55-1.1)