Introduction:
Plastic vibrating screens are also called polypropylene vibrating screens, PP plastic screening machines, and anti-corrosion vibrating screens. The main purpose of use is to screen and filter materials that are more corrosive or that cannot be in contact with metals. The plastic vibrating screen designed and developed by our company is a vibrating screen that specifically solves the problems of oxidation and corrosion caused by some special materials in contact with Q235 ordinary carbon steel and SUS304 stainless steel. The part in contact with the material is made of PP plastic material, which is a very effective solution to the screening, impurity removal and filtration of materials with oxidized and corrosive steel materials, ensuring that the materials will not deteriorate during the screening process.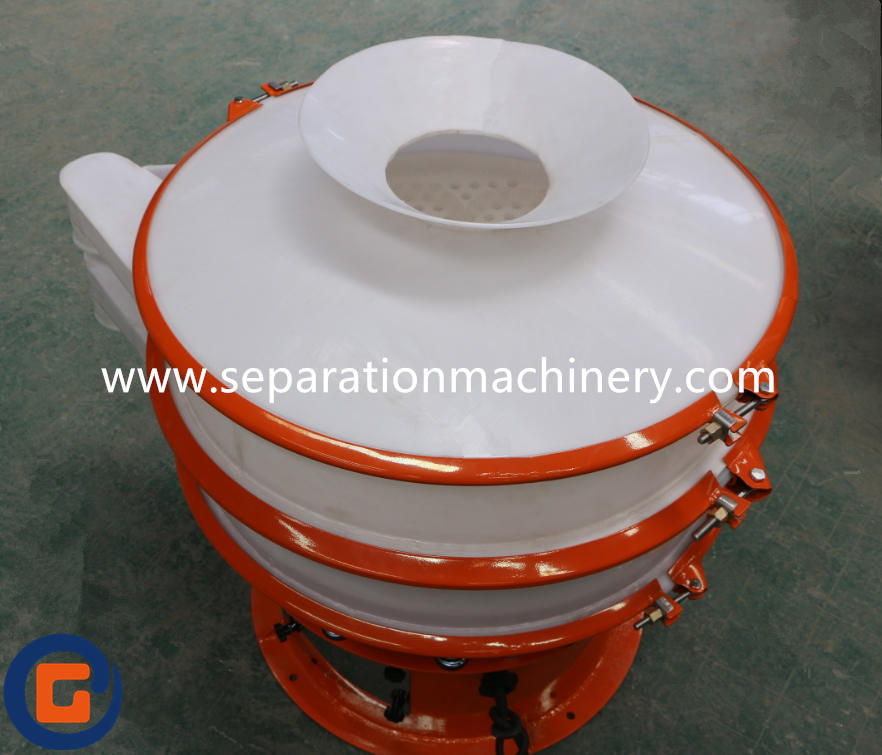 Working Principle:
1) Size classification: separation of particles into groups of comparable size from the materials.
2) Gravity filtering: removal of solids from liquids and slurries.
3) Product reclamation: removal of the solids from waste product or clarification of waste liquor for further use.
4) Screening: separation of a few oversize particles from a quantity of materials.
5) Liquid cleaning: cleaning of wastewater or removing the solids from recirculation liquid.
The plastic vibrating screen uses a vertical vibrating motor as the source of excitation, and the rotating motion is converted into horizontal, vertical, and inclined three-dimensional motion through the eccentric weight at the upper and lower ends of the vibrating motor, and is transmitted to the screen surface of the rotary vibrating screen; the material passes through The material inlet enters the equipment. According to different material screening requirements, the material passes through 1-5 layers of screens with different meshes. In this process, the cleaning device (bounce) is located under the screens of each layer. Ball) continuously hits the stainless steel screen through frequency vibration, so that the materials on the screen can be smoothly screened through the screen, and effectively solves the problem of material blockage. The materials of different meshes pass through the screens of the corresponding meshes in each layer. The discharge ports of each layer are discharged, finally achieving the purpose of screening and removing impurities or filtering and grading.

Mainly applicable industries:
Chemicals: resins, coatings, pigments, rubber, carbon black, activated carbon, co-solvents, glues, sodium sulfate, polyethylene powder, quartz sand, etc.
Medicine: Chinese medicine powder, western medicine powder, medicine raw material powder, etc.
Foods: sugar, salt, monosodium glutamate, starch, milk powder, soy milk, fruit juice, rice noodles, dehydrated vegetables, fruit juice, yeast liquid, pineapple juice, fish meal, food additives, etc.
Ceramics: glass, ceramics, porcelain slurry, abrasive materials, refractory bricks, kaolin quicklime, mica, alumina, calcium carbonate (heavy), etc.
Metal metallurgy: lead powder, zinc oxide, titanium oxide, foundry sand, diamond powder, aluminum powder, iron powder, various metal powders, etc.
Pollution treatment: waste water, waste oil, feces and urine, etc.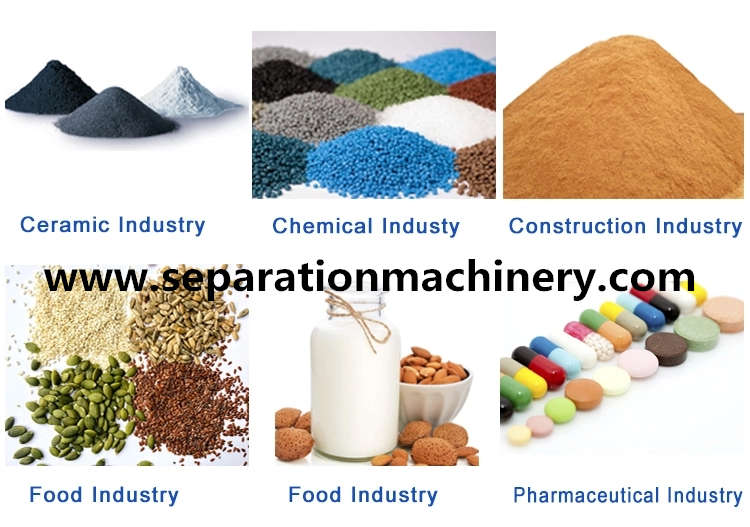 Technical Parameters:
| | | | | | |
| --- | --- | --- | --- | --- | --- |
| Model | Screen Diameter (mm) | Screen Area (m2) | Screen Decks | Power (KW) | Maximum size input |
| GX-400 | 350 | 0.10 | 1-5 | 0.18 | 20mm |
| GX-600 | 550 | 0.24 | 1-5 | 0.25 | 20mm |
| GX-800 | 760 | 0.44 | 1-5 | 0.5 | 30mm |
| GX-1000 | 950 | 0.71 | 1-5 | 0.75 | 30mm |
| GX-1200 | 1150 | 1.03 | 1-5 | 2.2 | 30mm |
| GX-1500 | 1430 | 1.65 | 1-5 | 2.2 | 50mm |
| GX-1800 | 1730 | 2.35 | 1-3 | 2.5 | 50mm |
| GX-2000 | 1910 | 2.98 | 1-3 | 2.5 | 60mm |