Overview
The Stainless Steel plate frame filter, which is applicable to the process operation with the requirements of fine filtration and semi-fine filtration such as purification,sterilization and defecation with sealed filtration in the liquid with low viscosity and little slagging content under the concentration of 50%. By directly adopting microporous filtration film,it can realize the sterile filtration without passing the microporous film.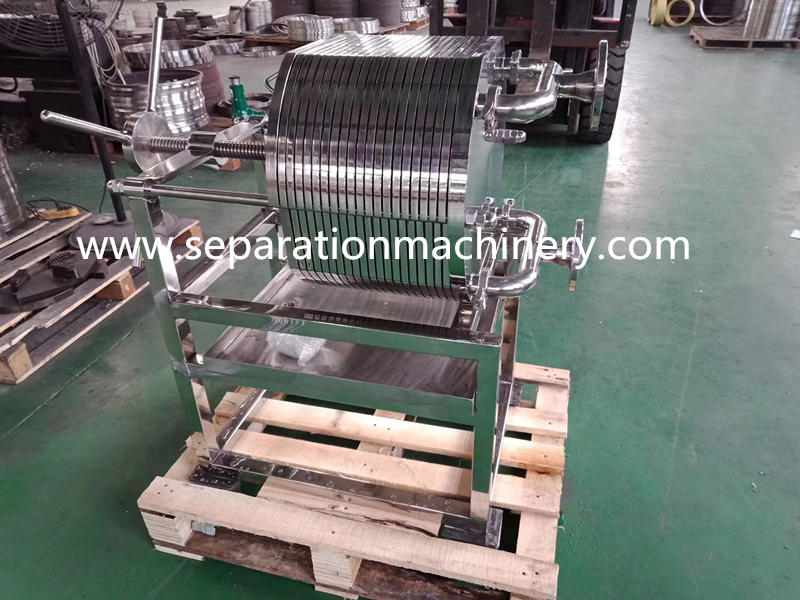 Stainless Steel Plate Frame Filter Feautures
1.Sheet filters are maded from stainless steel directly,sus304 for 316L,the plate size and filtering area can be shifted according to different layers of filter plate and filter frame quantity and also the filter plate and frame size.
2.According to client requirements,the sheet filter plate frame size can be made to be round plate frame or square ones.
3.Sheet filter plate and frame size can be size from 100mm inner side diameter to 600 mm diameter,if need bigger size,then we can made the filter plate and frame separately.
4.All the sheet filter plate and frame will be added good quality,long service time Si O-rings,good sealing ability and less figure size changing.
5.all the sheet filter frame are made from compact design,less room ocupation,by plastic or polyproplythene wheels under the sheet filter frame,the sheet filter can be moved to any working places for work,no fixed working spot requirements and no foundation requirements as the big PP plate and frame filter presses.
6.The feeding pump for the sheet filters are centrifugal PP pump,Pneumatic pump,screw pump,gear pump etc, according to different feeding material requirements .
7.Filtering medias can use filter membranes,which made from PE material, filter cloth(various kind according to different filtering pressure,temprature etc.) filter paper and fiber sheets.various according to different conditions .
8. sheet filter also can be heated and we have our patent horizotal design for heating purpose.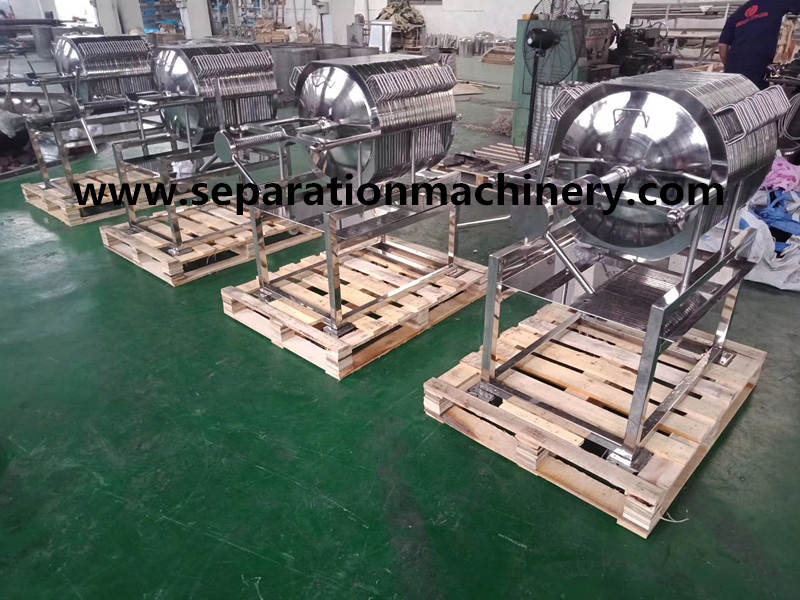 Structure and Principle
The suspended solution is pumped into filter chamber, under the feeding pressure, the filter pass through the filter media and then discharged from the outlet. The solid will becomes to filter cakes. Thus realize solid liquid separation.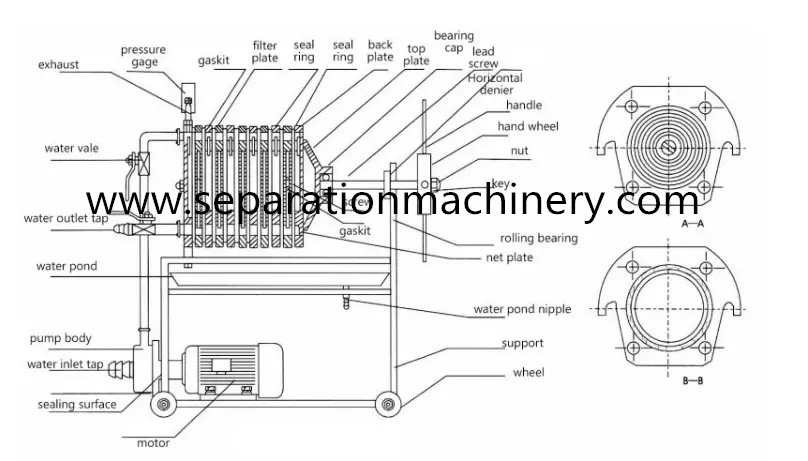 Application
1)Food Industries:
Yellow rice wine, liquor, fruit juice, beverage, beer, yeast, citric acid, plant protein, plant secretin, glucose, maltose, fixe d powder, rice flour, ban rice milk, gelatin, carrageenan, monosodium glutamate, spices, sauce, oral liquid, soy milk, seaweed.
2)Metallurgy Industries :
(gold, silver, copper, iron, zinc) concentrate/tailings, acid leaching/anode mud, etc.
3)Oil Industries:
white oil, sesame oil, sesame oil, cottonseed oil, lubricating oil, palm oil, a variety of animal oil, light oil,glycerin, machinery oil, vegetable oil.
4)Non-metallic ore Industries:
kaolin, bentonite, active soil, porcelain, electronic ceramic soil, phosphate rock, calcium carbonat
5)Sewage treatment :
chemical sewage, smelting sewage, electroplating sewage, leather sewage, printing and dyeing sewage, brewing sewage, pharmaceutical sewage, environmental sewage, etc.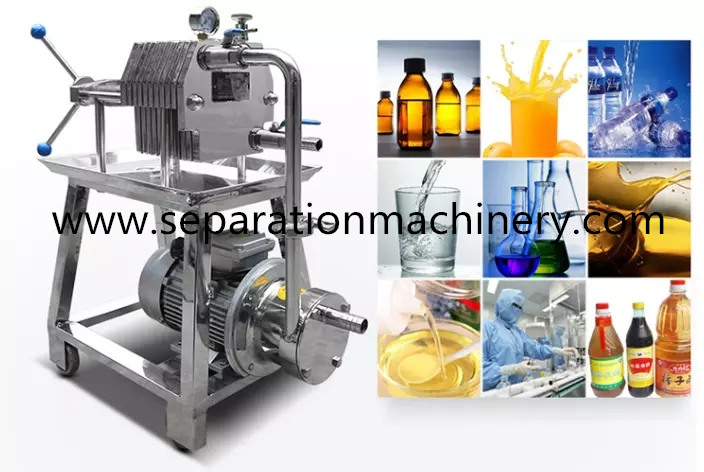 Technical Parameter
Model
layers

Filter area

(m²)

Filter plate Size

(mm)

Filter Medium

(μm)

Pressure

(Mpa)

WaterFlow

(T/h)

Power(kw)
Dimensions(mm)
GRSBA 100-10
10
0.078
Ø100
0.8
0.1-0.3
0.8
0.55
600*300*600
GRSBA150-10
10
0.17
Ø150
0.8
0.1-0.3
1.5
0.75
650*380*650
GRSBA200-10
10
0.34
Ø200
0.8
0.1-0.3
2
1.1
650*400*700
GRSBA300-10
10
0.7
Ø300
0.8
0.1-0.3
4
1.1
700*500*800
GRSBA400-10
10
1.25
Ø400
0.8
0.1-0.3
6
1.1
900*600*1000
GRSBA400-20
20
2
Ø400
0.8
0.1-0.3
10
1.5
1100*600*1000
GRSBA400-30
30
3
Ø400
0.8
0.1-0.3
12
2.2
1300*600*1000