Introduction:
Tubular Separator has high performance of separate factor, high capacity, and account for small area and easy to handle, it has two types, one is GQ two phase that can separate solid from the liquid, another is GF series, which can separate the water, solid from the oil.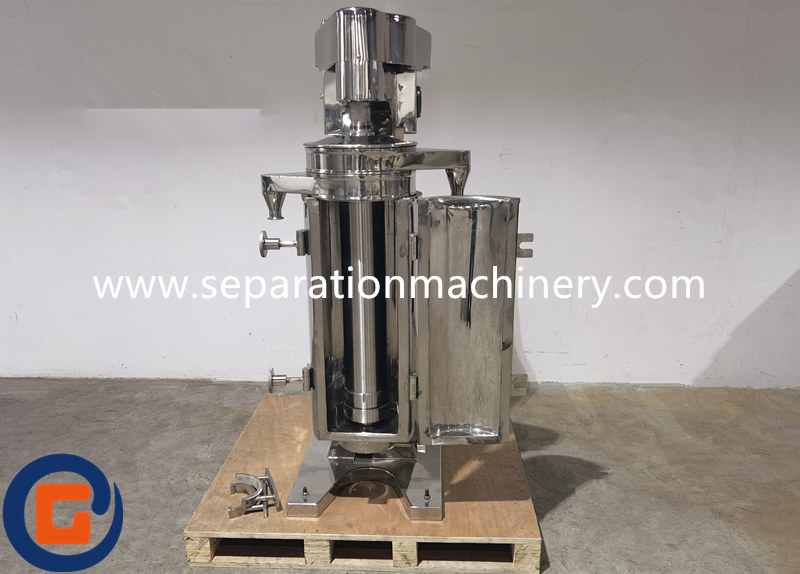 Working principle:
Heavy solid is deposited on the inner wall of the bowl,and forms the sludge. And it will be discharged by manual after the machine stops. The clear liquid flows out of outlet from the top of the bowl.The motor connect with the big pulley and delivery the power to the spindle through the belt, tensioner and small pulley and rotate with the bowl in high-speed as the clockwise.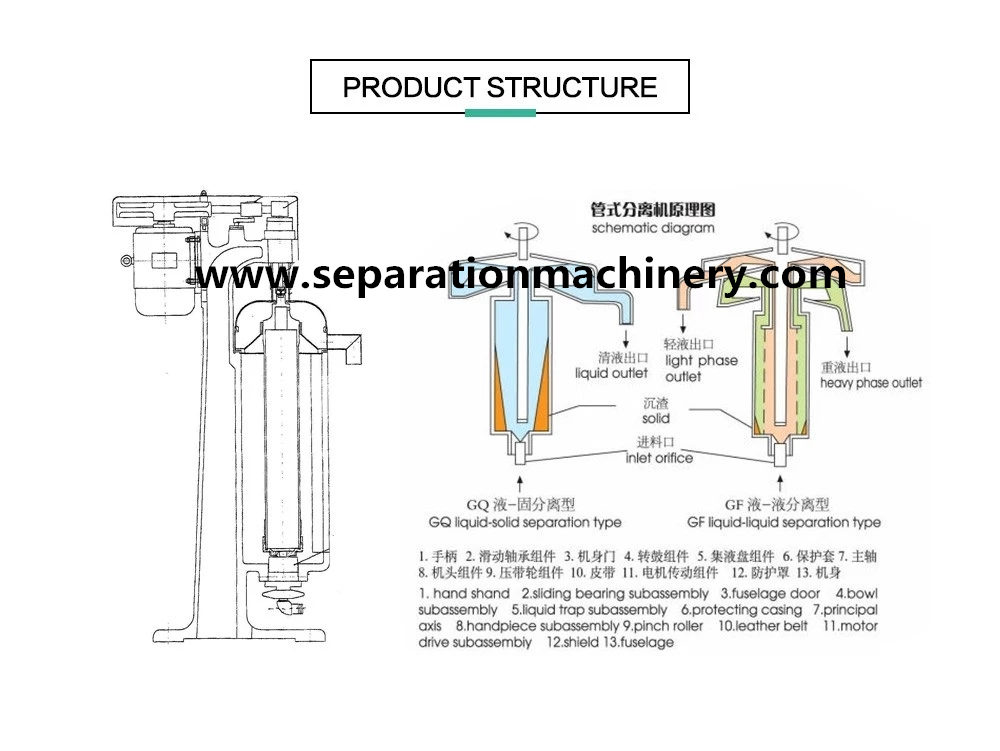 Application:
Beverage: Wine, beer yeast separation, fruit juice, vegetable juice purification process.
Pharma: Herbal extraction, Bacteria fermentation, Mycelium fermentation broth,Vaccine ,Gelatin, Bacillus
Food: coconut oil, avocado oil, olive oil, palm oil, plant oil, fish oil production line.
Oil water separation , liquid purification project.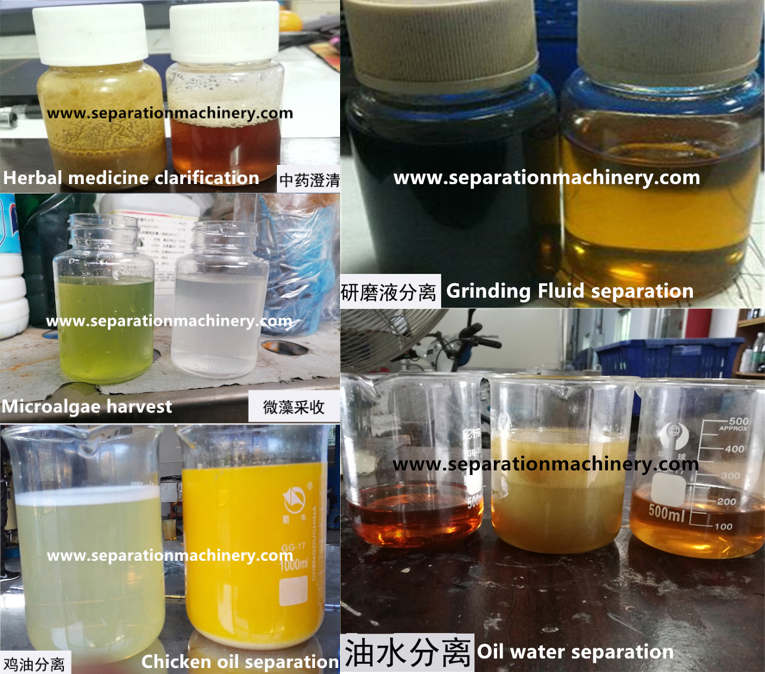 Technical parameter:
| | | | | | | | |
| --- | --- | --- | --- | --- | --- | --- | --- |
| Model | Unit | GQ/GF45 | GQ/GF75 | GQ/GF105 | GQ/GF115 | GQ/GF125 | GQ/GF150 |
| Bowl Diameter | mm | 45 | 75 | 105 | 115 | 125 | 150 |
| Bowl Speed | r/min | 10000-30000 | 19000 | 16300 | 16300 | 15000 | 13400 |
| Separation factor | -- | 19800 | 15200 | 15620 | 17000 | 15700 | 14300 |
| Bowl Volume | L | 0.45 | 2.2 | 6 | 7 | 8 | 10 |
| Throughput Capacity | L/H | 100 | 600 | 1200 | 1300 | 1500 | 2500 |
| Motor | kw | 0.55 | 1.5 | 2.2 | 3.0 | 3.0 | 3.0 |
| Weight | kg | 90 | 260 | 500 | 520 | 530 | 600 |
| Dimension(L*W*H) | mm | 500*420*760 | 760*450*1120 | 550*850*1600 | 600*900*1600 | 650*950*1600 | 700*1000*1600 |
Other hot sale separator: