Tubular centrifuge Introduction
GF75 Tubular Bowl Coconut Oil Centrifuges are designed to separate low percentages (<2%) of suspended solids which are between 1 and 0.001 microns in size, and to separate two immiscible liquids of differing densities. Tubular Centrifuges operate at high speed, generating up to 20,000 gravities of centrifugal force, causing solids to collect inside the smooth bore of the stainless steel tube where they are easily recovered.
Working principles
Liquid with big density forms the outer liquid circle, while liquid with small density forms the inner circle. Then liquid will flow out of the upper outlet accordingly, and those little solid will be deposited on the drum wall, and be removed by manual after machine stops.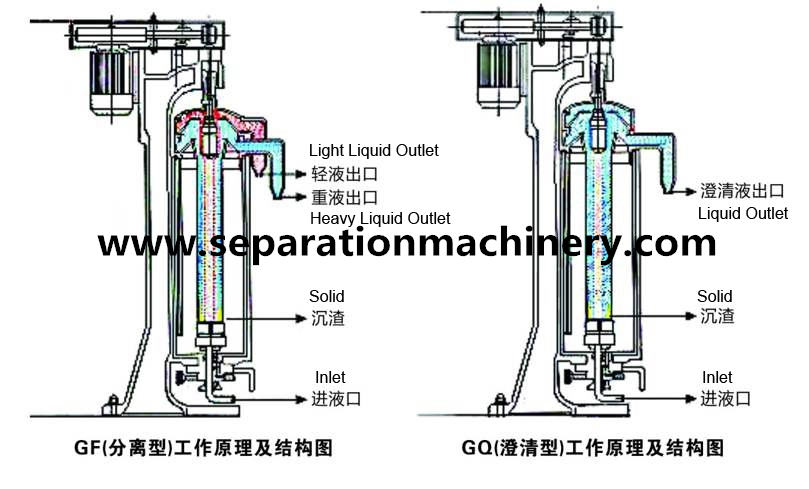 Tubular Centrifuge Application
Beverage : Wine, beer yeast separation ,fruit juice ,vegetable juice purification process .
Pharma : Herbal extraction , Bacteria fermentation, Mycelium fermentation broth,Vaccine ,Gelatin, Bacillus
Food: coconut oil , avocado oil , olive oil , palm oil , plant oil , fish oil production line .
Oil water separation , liquid purification project.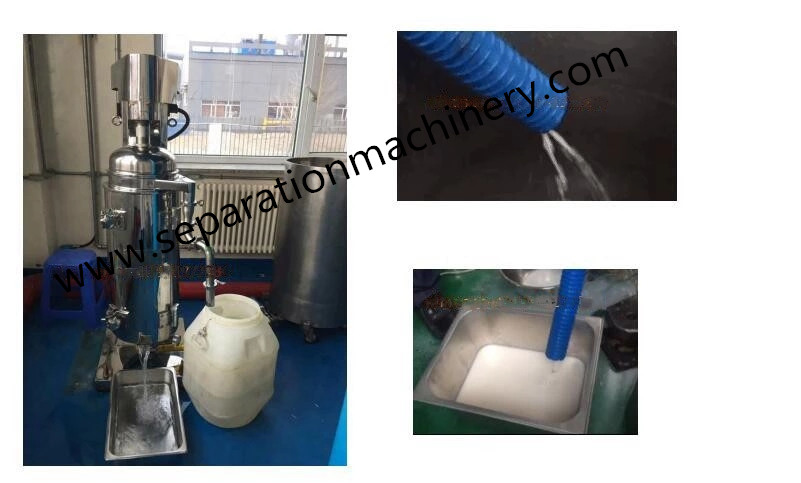 Technical Parameters
| | | | | | | | |
| --- | --- | --- | --- | --- | --- | --- | --- |
| Model | Unit | GQ/GF45 | GQ/GF75 | GQ/GF105 | GQ/GF115 | GQ/GF125 | GQ/GF150 |
| Bowl Diameter | mm | 45 | 75 | 105 | 115 | 125 | 150 |
| Bowl Speed | r/min | 10000-30000 | 19000 | 16300 | 16300 | 15000 | 13400 |
| Separation factor | -- | 19800 | 15200 | 15620 | 17000 | 15700 | 14300 |
| Bowl Volume | L | 0.45 | 2.2 | 6 | 7 | 8 | 10 |
| Throughput Capacity | L/H | 100 | 600 | 1200 | 1300 | 1500 | 2500 |
| Motor | kw | 0.55 | 1.5 | 2.2 | 3.0 | 3.0 | 3.0 |
| Weight | kg | 90 | 260 | 500 | 520 | 530 | 600 |
| Dimension(L*W*H) | mm | 500*420*760 | 760*450*1120 | 550*850*1600 | 600*900*1600 | 650*950*1600 | 700*1000*1600 |