General Description
GQ105 Clarification Type Tubular Centrifuge clarification is mainly used for separating all kinds of suspension which is difficult to be separated, especially suitable for separation of solid-liquid suspension with light concentration, heavy viscosity, fine particles and very small differential gravity of the two phases.for example clarifying all kinds of medicine fluid, glucose chlorhexidine, malic acid, oral solution, radix soghorae tonkinensis,coal tar and graphite; extracting protein,algae, saponin, pectin, sirup; blood separation, settling vaccine mycelia and all kinds of glucose; refining paint, resin, and latex solution.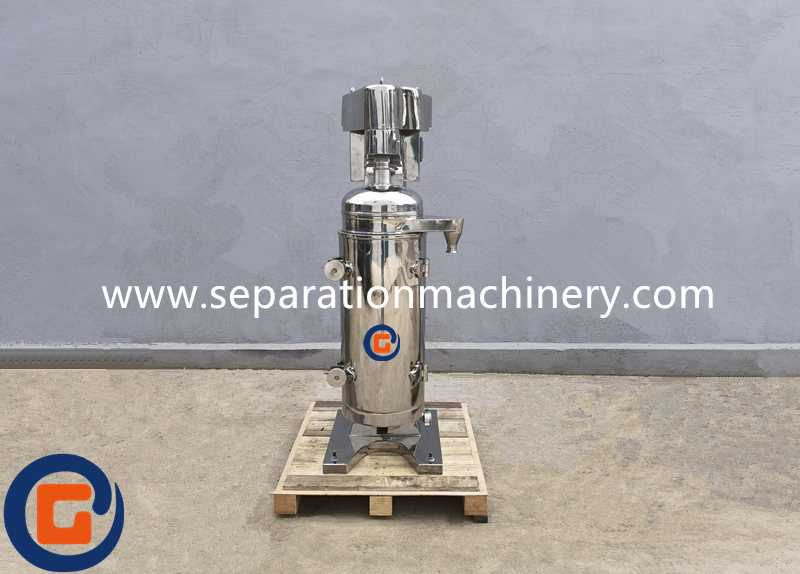 Working principle
Heavy solid is deposited on the inner wall of the bowl,and forms the sludge. And it will be discharged by manual after the machine stops. The clear liquid flows out of outlet from the top of the bowl.The motor connect with the big pulley and delivery the power to the spindle through the belt, tensioner and small pulley and rotate with the bowl in high-speed as the clockwise.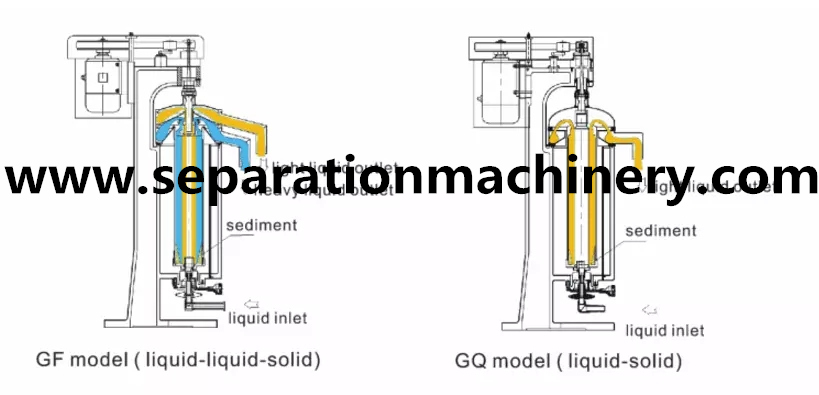 Typical Applications
1.Chinese medicine (plant, animal extracts) separation: separation process directly affects medicines (including plant extracts, animal extracts)quality. Some extracted liquid contain polysaccharides, proteins, pectin, saponins and insoluble impurities in the fluid,can not be removed by filtration. There are fine particles remaining in the extraction process, etc., can use tubular separator for separation.
2.Food industry: vinegar, spices, oil refining, fruit juice purification(fiber, pectin, remove insoluble proteins, residual impurities), Chicken Extract separation, pigment separation, dehalogenation crystal salt, sugar off the honey, health wine purify, yeast separation and so on.
3.Blood products: can be applied to separate people, chickens, pigs, cattle, sheep, and other blood plasma and blood cells. Can be used to product the plasma (blood) protein powder, albumin, hemoglobin, thrombin, SOD and so on.
4.Biopharmaceutical: used in the preparation of vaccines, cell separation. Such as: rabies vaccine, DPT vaccine, pneumonia vaccine, Escherichia coli, Bacillus spores, lactic acid etc.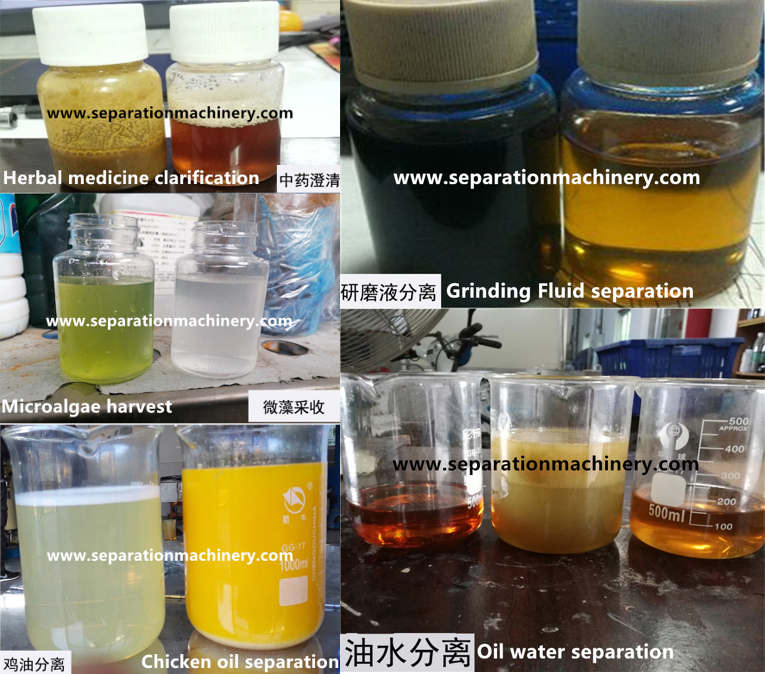 Technical parameter
| | | | | | | | |
| --- | --- | --- | --- | --- | --- | --- | --- |
| Model | Unit | GQ/GF45 | GQ/GF75 | GQ/GF105 | GQ/GF115 | GQ/GF125 | GQ/GF150 |
| Bowl Diameter | mm | 45 | 75 | 105 | 115 | 125 | 150 |
| Bowl Speed | r/min | 10000-30000 | 19000 | 16300 | 16300 | 15000 | 13400 |
| Separation factor | -- | 19800 | 15200 | 15620 | 17000 | 15700 | 14300 |
| Bowl Volume | L | 0.45 | 2.2 | 6 | 7 | 8 | 10 |
| Throughput Capacity | L/H | 100 | 600 | 1200 | 1300 | 1500 | 2500 |
| Motor | kw | 0.55 | 1.5 | 2.2 | 3.0 | 3.0 | 3.0 |
| Weight | kg | 90 | 260 | 500 | 520 | 530 | 600 |
| Dimension(L*W*H) | mm | 500*420*760 | 760*450*1120 | 550*850*1600 | 600*900*1600 | 650*950*1600 | 700*1000*1600 |
Related hot sale centrifuge products