General Description
The GQ125 Tubular Bowl Centrifuge With Cooling System is mainly used in liquid-solid separation, liquid-liquid-solid separation in bio-pharmacy, beverage, chemical industry. It is an ideal separation equipment by centrifuging, especially for those feeding with little gravity difference, and small dimension in diameter.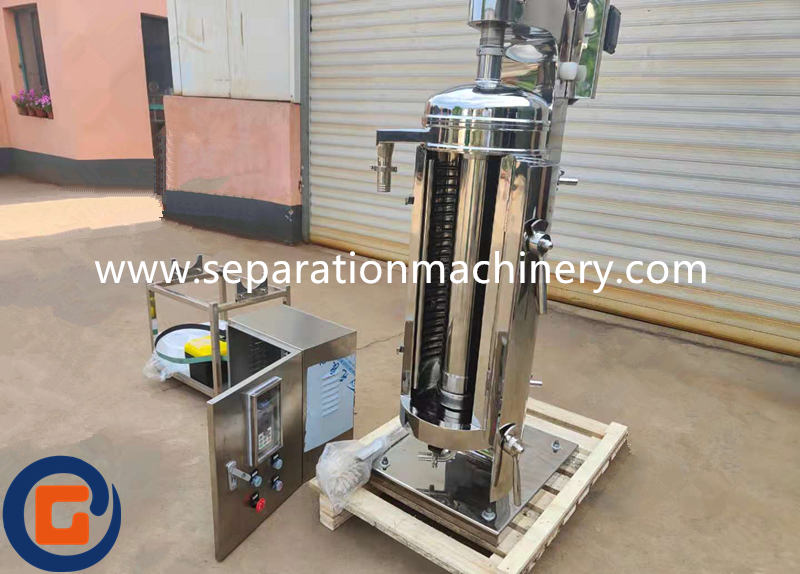 Structure and principle
The separator consists of machine body, driving part ,bowl, liquid collecting pan and liquid-in bearing seat etc. The material is sprayed onto the bowl from the inlet on the bottom and strong centrifuge force is formed when the bowl rotates with the material and that makes the material flow upper along the wall of the bowl and then separated because of the different gravity by the centrifugal force.
GF-for separation: Heavy liquid forms outer ring and light liquid forms inner ring. They flow to the top of the bowl and discharge from their respective outlet. And the little solid is settled on the wall of the bowl and discharged manually after the machine stops.
GQ-for clarification: Heavy solid is deposited on the inner wall of the bowl,and forms the sludge. And it will be discharged by manual after the machine stops. The clear liquid flows out of outlet from the top of the bowl. It is mainly used for separating all kinds of suspension difficult to be separated, especially suitable for separation of solid-liquid suspension with light concentration, heavy viscosity, fine particles and very small differential gravity of the two phases. The motor connect with the big pulley and delivery the power to the spindle through the belt, tensioner and small pulley and rotate with the bowl in high-speed as the clockwise.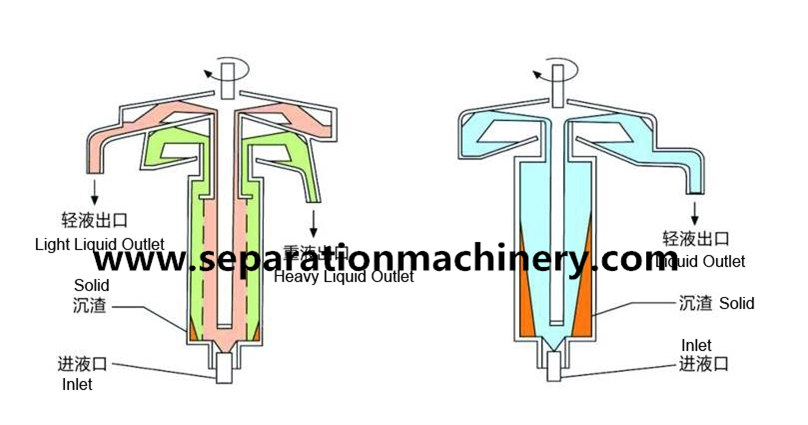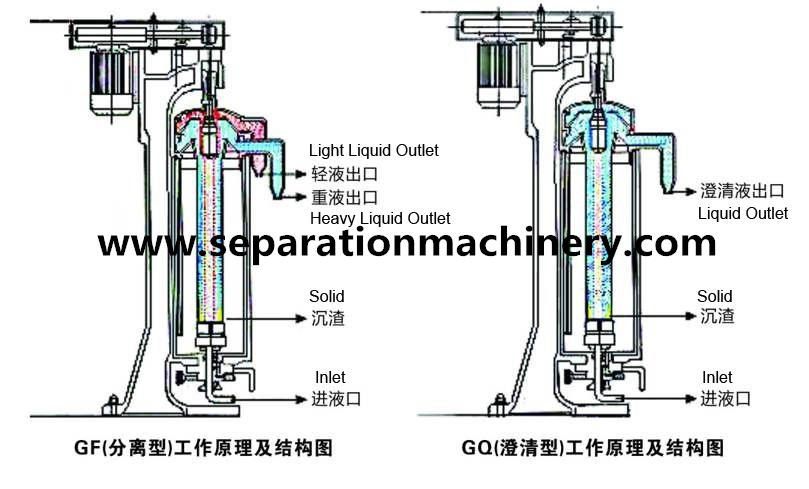 Principle application
(1)Clarifying process for liquid solid product(oral liquid)
(2) Extraction of protein,seaweed and jelly(plant extraction,herb extraction,pigment extraction)
(3) Refined molasses
(4) Separation of blood
(5) Settlement of bacteria (yeast, E.coli, lactobacillus, bacillus subtilis, nitrobacter etc)
(6) Purifying paint, dye, various resin.
(7) Oil separation(vegetable oil degumming,de-soap,dewater, oil and water separation etc)
(8) Processing of granular, crystalline and fibrous suspensions
(9) Separation of filterable and non-filterable sludge.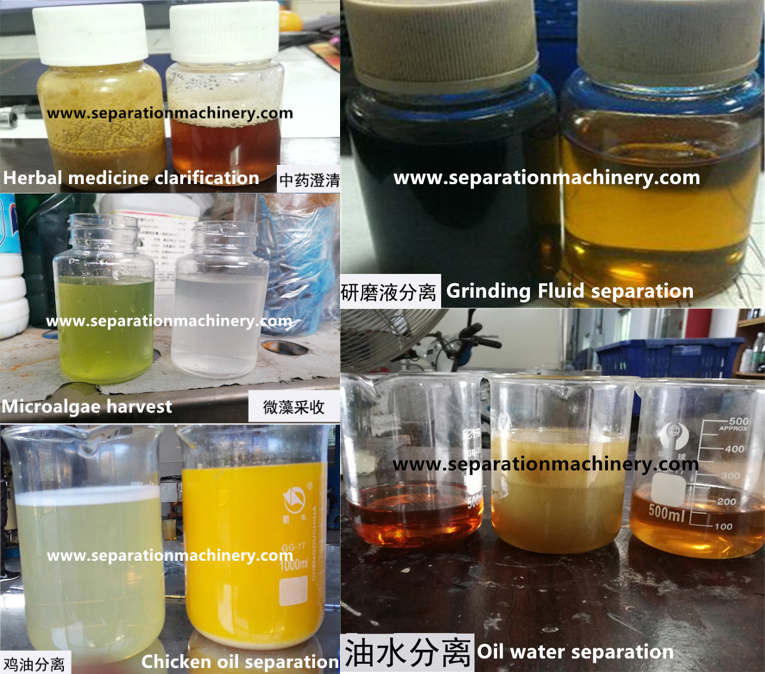 Technical Parameters
| | | | | | | | |
| --- | --- | --- | --- | --- | --- | --- | --- |
| Model | Unit | GQ/GF45 | GQ/GF75 | GQ/GF105 | GQ/GF115 | GQ/GF125 | GQ/GF150 |
| Bowl Diameter | mm | 45 | 75 | 105 | 115 | 125 | 150 |
| Bowl Speed | r/min | 10000-30000 | 19000 | 16300 | 16300 | 15000 | 13400 |
| Separation factor | -- | 19800 | 15200 | 15620 | 17000 | 15700 | 14300 |
| Bowl Volume | L | 0.45 | 2.2 | 6 | 7 | 8 | 10 |
| Throughput Capacity | L/H | 100 | 600 | 1200 | 1300 | 1500 | 2500 |
| Motor | kw | 0.55 | 1.5 | 2.2 | 3.0 | 3.0 | 3.0 |
| Weight | kg | 90 | 260 | 500 | 520 | 530 | 600 |
| Dimension(L*W*H) | mm | 500*420*760 | 760*450*1120 | 550*850*1600 | 600*900*1600 | 650*950*1600 | 700*1000*1600 |