Brief Introduction:
Tubular separator is a precise separation machinery which fit for the lower solid content suspension liquid and lower small proportion dissolve liquid.It was the key machinery for the pharmaceutical, food, chemical, bio-products and beverage etc.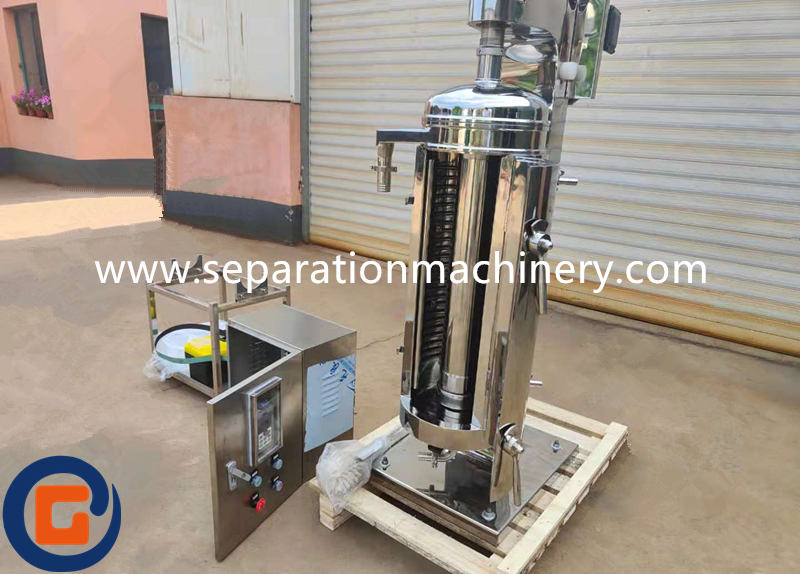 Difference between GF and GQ models:
GF model: Liquid with big density forms the outer liquid circle, while liquid with small density forms the inner circle. Then liquid will flow out of the upper outlet accordingly, and those little solid will be deposited on the drum wall, and be removed by manual after machine stops.
GQ model: Solid particles with big density are gradually deposited on the drum's inner wall, and forms sediment layer, after machine is stopped, is removed by manual. While the clarified liquid flows out through the outlet on the upper of the drum.
Working principles:
The machine is composed of main body, transmission device, drum, liquid collecting tray, and liquid-feeding bearing base. There is a flexible main axis on the top of drum, and a damping floating bearing at its bottom. With the linked buffering device, the main axis is connected with the passive wheel. Through the conveyor and the fastening wheel, motor provides power for the passive wheel, so the drum rotates around itself axis by high speed, and form strong centrifuge force field. Materials are launched from the bottom feeding inlet, by the centrifugal force, liquid flows upward along the drum wall, and is separated to layers because their different density.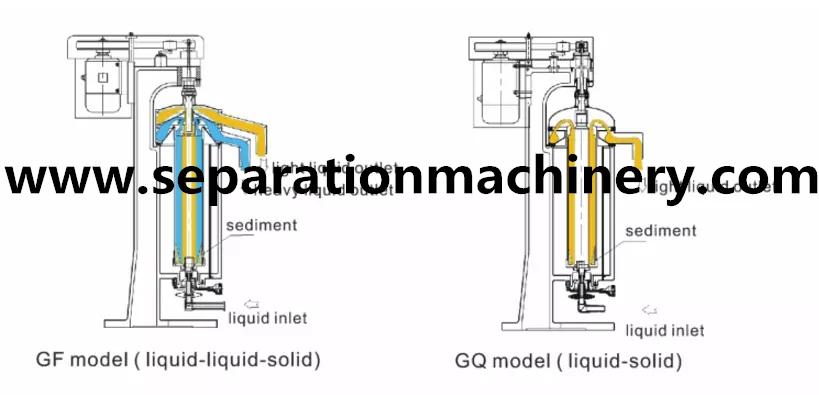 Application:
It is used for separating various emulsion, especially adaptable for liquid-liquid separation with slight gravity difference and liquid-liquid-solid separation with a little foreign matter, such as separation of various oil and micropowder, extract liquid from plants, separation of plasma and cell,separation of milk cream.
(1) Oil separation(Avocado oil,Biodiesel, Coconut oil ,vegetable oil degumming ,de-soap, dewater, oil and water separation etc)
(2) Clarifying process for liquid solid product (oral liquid)
(3) Extraction of protein, seaweed and jelly(plant extraction, herb extraction,pigment extraction)
(4) Refined molasses
(5) Separation of blood
(6) Settlement of bacteria (yeast, E.coli, lactobacillus, bacillus subtilis, nitrobacter etc)
(7) Purifying paint, dye, various resin
(8) Processing of granular, crystalline and fibrous suspensions
(9) Separation of filterable and non-filterable sludge.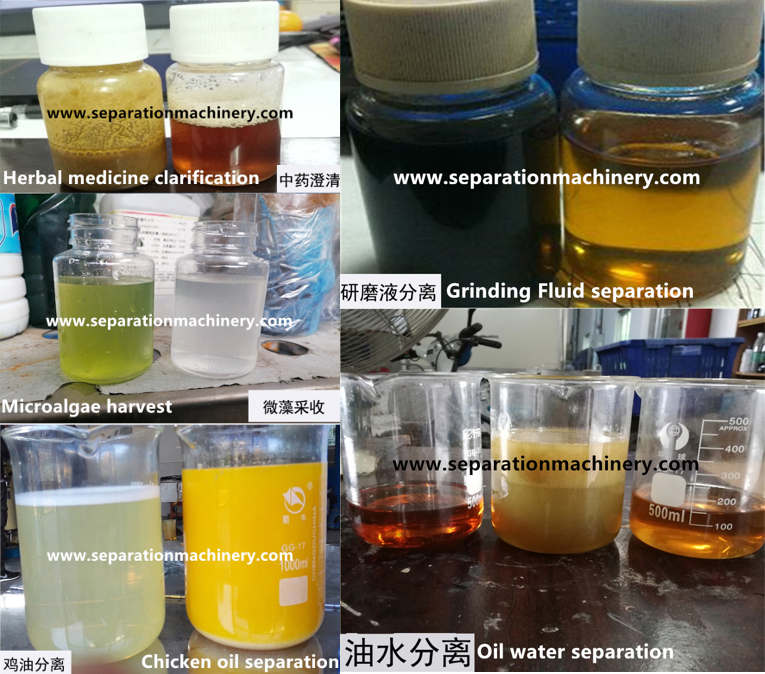 Technical parameter:
| | | | | | | | |
| --- | --- | --- | --- | --- | --- | --- | --- |
| Model | Unit | GQ/GF45 | GQ/GF75 | GQ/GF105 | GQ/GF115 | GQ/GF125 | GQ/GF150 |
| Drum Diameter | mm | 45 | 75 | 105 | 115 | 125 | 150 |
| Bowl Speed | r/min | 10000-30000 | 19000 | 16300 | 16300 | 15000 | 13400 |
| Separation factor | -- | 19800 | 15200 | 15620 | 17000 | 15700 | 14300 |
| Bowl Volume | L | 0.45 | 2.2 | 6 | 7 | 8 | 10 |
| Throughput Capacity | L/H | 100 | 600 | 1200 | 1300 | 1500 | 2500 |
| Motor | kw | 0.55 | 1.5 | 2.2 | 3.0 | 3.0 | 3.0 |
| Weight | kg | 90 | 260 | 500 | 520 | 530 | 600 |
| Dimension(L*W*H) | mm | 500*420*760 | 760*450*1120 | 550*850*1600 | 600*900*1600 | 650*950*1600 | 700*1000*1600 |
Related hot sale centrifuge products: