Description
Z Type Bucket Elevators are very well suited for a broad range of free flowing products in the food, agriculture, pharmaceutical, cosmetic, chemical industry, .such as snack foods, frozen foods, vegetables, fruits, confectionary. Chemicals and other granules.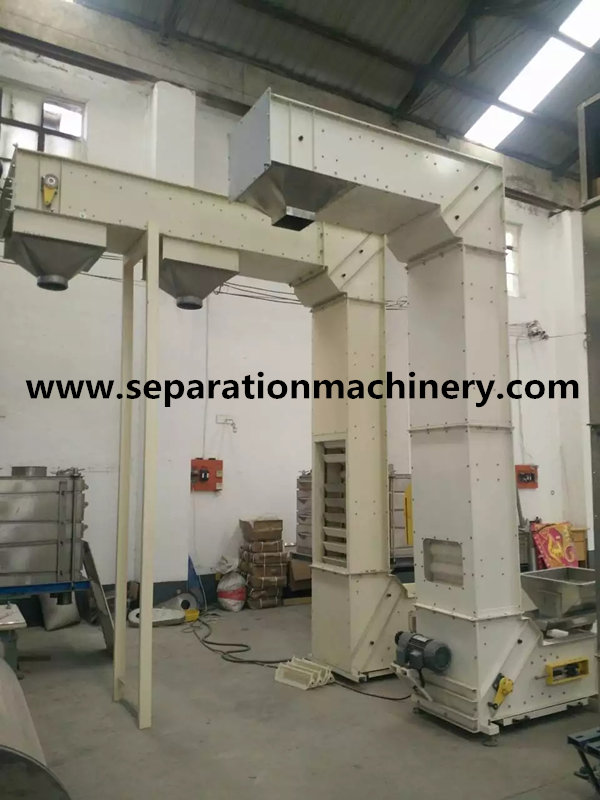 Working Principle
The incoming product is fed to the bucket elevator continuously and very gently by means of a vibratory feeder.The edges of the buckets overlap each other in the inlet section and therefore prevent spillage of kernels. Due to the pivoted mounting of buckets in the chain, buckets keep their horizontal position all through the way around in the conveyor until they finally reach the outlet. There, each bucket is tilted and the product falling out is gently led into the outlet hopper.The bucket elevator can be equipped with a number of several inlets and outlets. Inlets can work at the same time, while outlets are used singular, meaning only one outlet being active momentarily.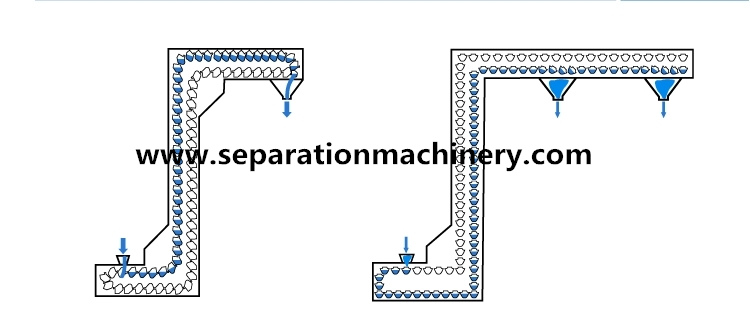 Applicable scene
Currently operating normally in the following automated production industries: pet food industry, puffed food industry, feed industry, confectionery industry, dried and fresh fruit industry, health food industry, food processing industry, chemical and pharmaceutical industry, hardware and electrical materials industry, military manufacturing Industry and so on.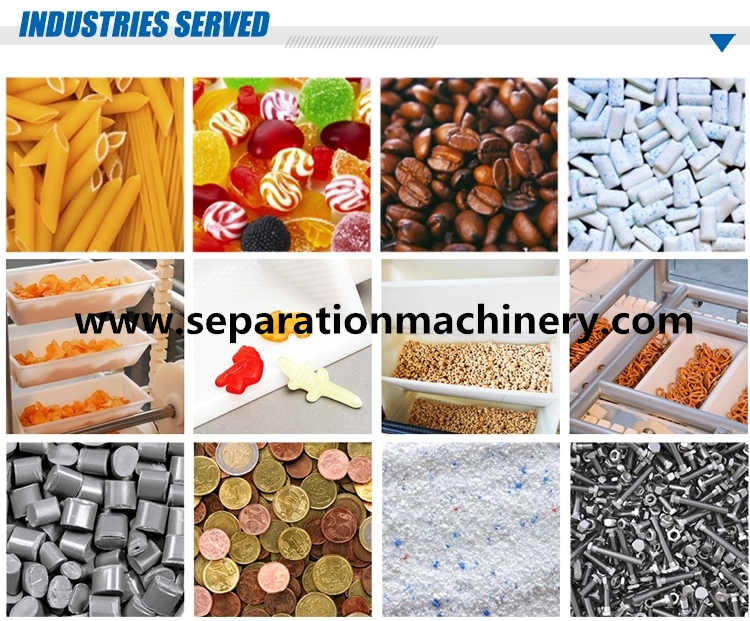 Technical Parameter
| | | | | |
| --- | --- | --- | --- | --- |
| Model | ZT-2L | ZT-5L | ZT-7L | ZT-10L |
| Capacity(m3/h) | 0-6 | 0-12 | 0-15 | 0-20 |
| Running Speed(m/min) | 10-12 | 10-12 | 10-12 | 10-12 |
| Lifting Height | Up To 50m | Up To 50m | Up To 50m | Up To 50m |
| Bucket Volume(L) | 2L | 5L | 7L | 10L |
| Power(KW) | 0.75-22 | 0.75-22 | 0.75-22 | 0.75-22 |
| Outlets | 1—15 pcs | 1—15 pcs | 1—15 pcs | 1—15 pcs |