Brief Introduction
There are basically two application types in the wastewater treatment industry for the decanter centrifuge: sludge thickening and sludge dewatering duties.Also .it can be used for Sludge classification and Sludge clarification. With the decanter centrifuge,it is possible to separate the particles from suspending liquid with equivalent diameter bigger than 0.003mm,solid-liquid weight ratio less than 10% or volume ratio less than 70%,difference in specific gravity bigger than 0.05g/cm3.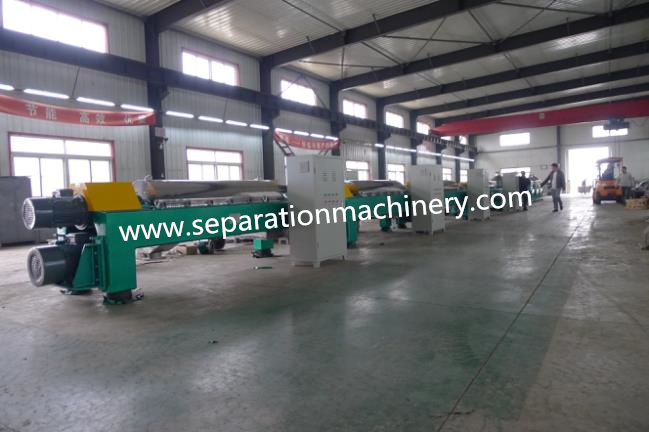 Working principle:
The feed suspension is introduced through an inlet pipe into the feed zone of the conveyor where it is accelerated and directed into the interior of the bowl. The settled solids are conveyed axially towards the small end of the bowl by means of the screw conveyor, which rotates at a slightly different speed than the bowl. On the way to the discharge ports the solids are lifted out of the pond up along the dry beach. The solids are finally discharged from the bowl through the discharge ports into the collecting chamber of the casing that surrounds the bowl. From there the solids are removed by gravity through the outlet funnel. The liquid phase forming a hollow cylinder due to the centrifugal force, and flows towards the large end of the bowl. There the liquid overflows adjustable plate dams into the centrate chamber of the casing and is discharged by gravity.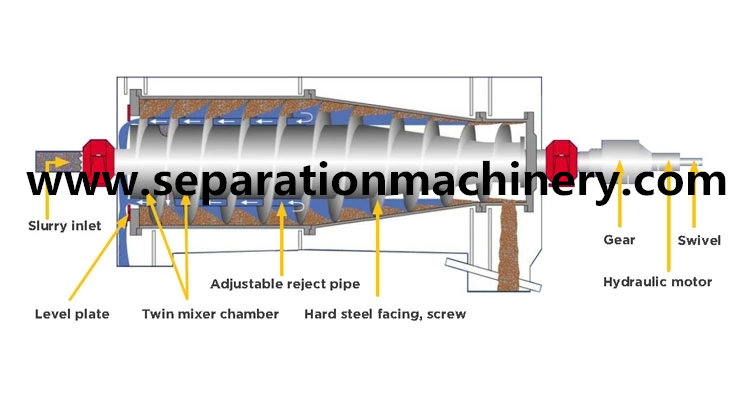 Decanter Centrifuge For WWTP Sludge Dewatering Wastewater Treatment Separator could be used in the following fields:
Municipal sludge treatment,paper mill sludge,starch factory waste water treatment,stell mill sludge,printing and dyeing mill sludge,water works sludge,pharmaceutical waste sludge,PVC sludge,sewage desulfurization sludge,grain stillage,power plant ash sludge,dairy sludge,beer sludge,drilling fluid ,electroplating liquid,fermented liquid manure,oil refining sludge,soap sludge,leather sludge and etc.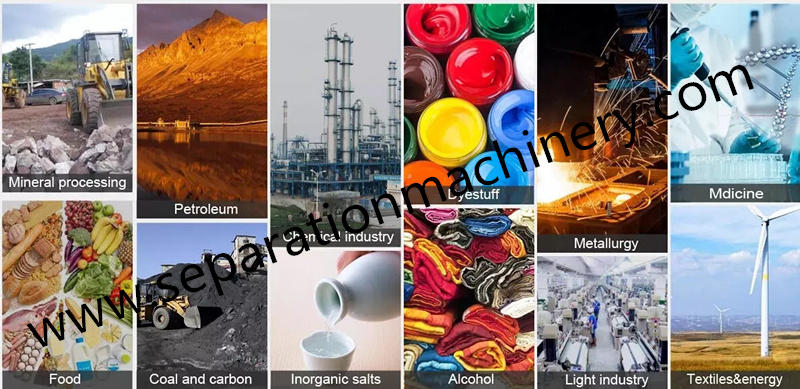 Technical Parameter
| | | | | | | | | |
| --- | --- | --- | --- | --- | --- | --- | --- | --- |
| Model | Bowl Diameter mm | Bowl Lengthmm | Rotating speed (rpm) | Separation factor | Processing capacity (m3/h) | Motor power (kw) | Dimensions (L*W*H)(mm) | Weight (kg) |
| LW220*930 | 220 | 930 | 5000 | 2835 | 0.5-5 | 7.5 | 2420*700*1010 | 1200 |
| LW300*1200 | 300 | 1200 | 4000 | 2550 | 1-5 | 7.5-11 | 2680*830*1280 | 1500 |
| LW355*1600 | 355 | 1600 | 3800 | 2868 | 1-20 | 15-18.5 | 3490*860*1200 | 1850 |
| LWS400*1200 | 400 | 1200 | 3650 | 3000 | 1-5 | 15-18.5 | 2990*960*1205 | 2500 |
| LW(S)400*1800 | 400 | 1800 | 3650 | 3000 | 2-25 | 15-22 | 3890*1020*1205 | 2500 |
| LW(S)450*2000 | 450 | 2000 | 3450 | 3000 | 3-35 | 22-37 | 4297*1080*1385 | 3000 |
| LW(S)500*2000 | 500 | 2000 | 3000 | 2500 | 5-45 | 30-37 | 4330*1140*1470 | 3800 |
| LW(S)530*2280 | 530 | 2280 | 2900 | 2500 | 15-65 | 45-55 | 4924*1170*1540 | 5000 |
| LW580*2500 | 580 | 2500 | 2780 | 2500 | 20-80 | 55-75 | 6500*1270*1540 | 5205 |
| LW650*2800 | 650 | 2800 | 2500 | 2270 | 20-110 | 75-90 | 6500*1270*1540 | 7000 |
| LW760*3040 | 760 | 3040 | 2250 | 2150 | 30-150 | 90-132 | 6500*1270*1540 | 8500 |
Centrifuge Catalogues