Introduction
The natural latex is from rubber tree, milk white , solid content is 30%~40%, and the average diameter of solid is 1.06um. The fresh natural latex contain latex 27%~41.3%(m/m),water 44%~70%,protein 0.2%~4.5% ,natural resin 2%~5% ,saccharides 0.36%~4.2% and ash 0.4% . To facilitate transportation and processing, natural rubber latex should be concentrated to the solid content of 60% by adopting the method of centrifugal or evaporation. so it also known as concentrated latex.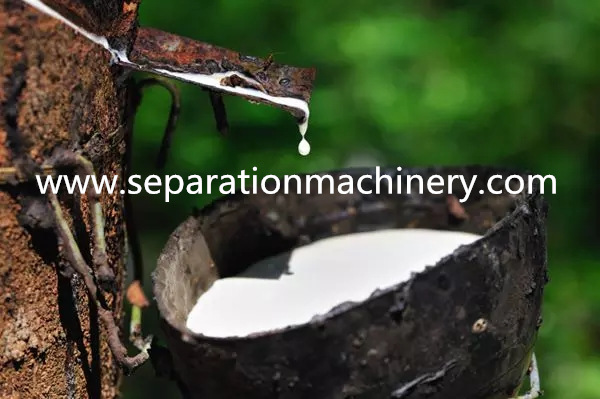 Natural Rubber Latex Disc Stack Centrifugal Separator is suitable for concentrating and purifying of the natural latex. It can separate the latex into the cream and skim, as well as eliminate the solid impurities at the same time. This model of separator is provided with the following advantages: inverter start-up, magnetic brake, short stoppin, and long effective separating time, large treatment capacity, good separating efficiency. It is really a excellent equipment for the latex production.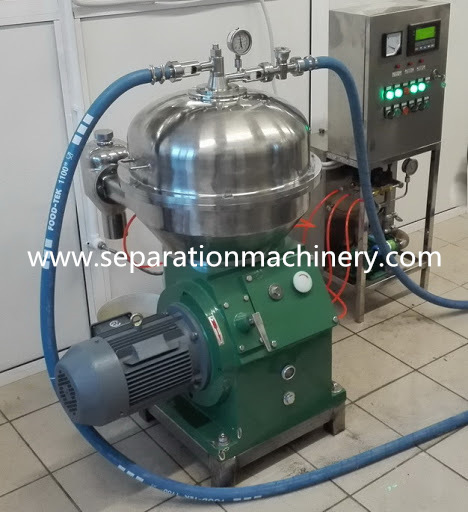 Application
1. Beverage: Wine, tea, coffee and beer.
2. Juices: Vegetable juices, various kinds of fruit juices
3. Vegetable oil: Coconut oil, colza oil, cotton seed oil, core oil, palm oil, soybean oil, peanut oil, rice oil, sesame oil, safflower oil
4. Animal oil: Fish oil and other animal oil.
5. Mineral oil: Fuel oil, diesel oil, lubrication oil, transformer oil and waste oils.
6. Dairy Milk: Milk degrease
7. Fermented liquids: Bacterial or fungi mass after fermentation
Technical Parameters
| | | | | | | |
| --- | --- | --- | --- | --- | --- | --- |
| Model | Rotating speed (rpm) | Quantitative settlement area (cm²) | ThroughputCapacity (L/h) | Motor power (kw) | Dimensions (L*W*H)(mm) | Weight (kg) |
| DHC300 | 8212 | 17.2*107 | 1250 | 4.0 | 1050*850*1200 | 580 |
| DHC400 | 7070 | 27*107 | 3500 | 7.5 | 1495*1130*1485 | 1280 |
| DHC500 | 6600 | 63*107 | 8000 | 15 | 1780*1500*1900 | 1720 |
| DHC550 | 5840 | 76*107 | 10000 | 22 | 1950*1550*1960 | 2300 |
| DHC630 | 5170 | 82*107 | 12000 | 37 | 2185*1728*2082 | 3000 |
| DHC730 | 4500 | 90*107 | 20000 | 45 | 2380*1730*2060 | 3400 |
Related centrifuge separator equipment