Product Description:
PGZ series centrifuge is a type of centrifugal separation machinery with high scientific content, and several configuration options are available. Featuring asepsis, sanitation, enclosed explosion-proof, multiple safety protections and several configuration options, this series centrifuge is controlled by a fully-automatic program, and has been widely used in such industries as pharmacy, fine chemistry and food.
Operating principle:
The automatic bottom discharge scraper centrifuge is vertical fully-automatic filtration centrifuge. The motor drives the basket to rotate at high speed through the belt, and under the control of pre-written program, the material to be separated is fed into the basket through the feed system. After the material is filtered through the filtration medium (filter cloth/screen) under the action of centrifugal force, the liquid phase discharges out of the centrifuge through the liquid pipeline, and the solid phase is retained in the basket. A material detection device is used to detected material filling position in real-time manner, and when the solid cake deposited in the basket reaches the specified holding capacity of the centrifuge, feeding stops. Then wash and dry the solid cake. After the solid cake meets requirements for knock-out, the centrifuge reduces to the scraping rate, under the hydraulic (pneumatic) control, the scraper device removes the solid cake, and then the cake id discharged at bottom outlet of the centrifuge.
Applications:
Apply to separating the suspension containing particles, but also fibers, especially the highly sticky, containing micro particles, poisonous and flammable materials, like antibiotics, vitamins, and minerals, salts, gourmet powders, foodstuff additives, amylum, sugar, chemical flavors, thiamin, plasters, Glauber's salt, bluestone, potassium chloride, borax, dyestuffs, pigment, resin, pesticides, and environmental protection. The centrifuge is highly automated, has large capacity and can be remote-controlled.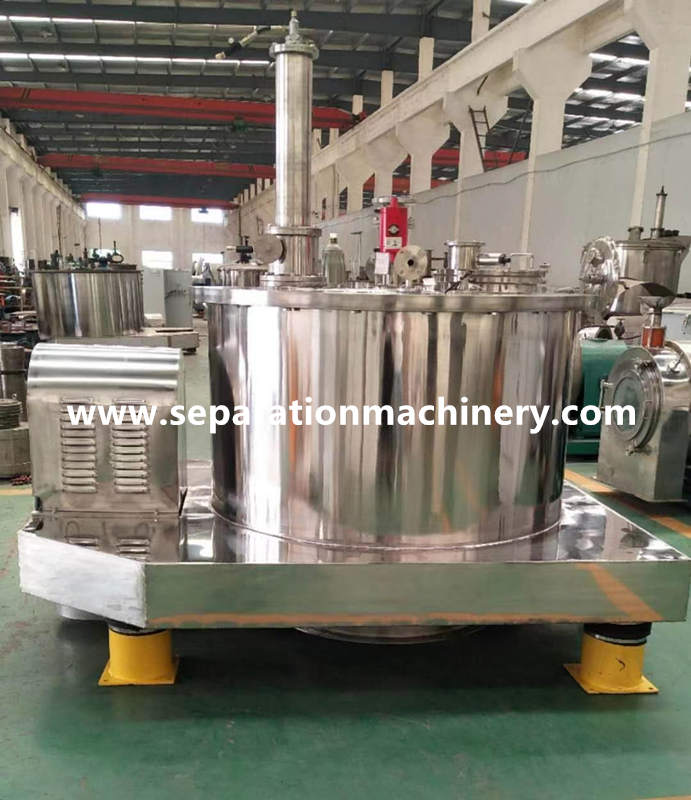 Technical Parameters:
Model
PGZ800
PGZ1000
PGZ1250
PGZ1600
Bowl
Diameter
Kg
800
1000
1250
1600
Effective volume
L
115
175
300
775
Loading limit
Kg
155
250
350
800
Rotating speed
r/min
1200
1000
950
650
Separating factor
ω2r/g
1007
805
700
572
Motor power
kw
7.5
15
18.5
37
Dimension(L×W×H)
mm
1850×1450×2050
2000×1550×2150
2260×1800×2200
3300×2300×3100
Weight
kg
2500
3500
5000
8500