Description:
PGZ 1600 Scraper Bottom Discharge Centrifuge is applied for fine and medium grain solid particle suspension separation, the solid particle could be granule, crystal or fiber type. Especially for the separation which the material has high viscosity, fine grain, poisonous and inflammable. Widely used in the area of chemical, pharmaceutical, food, light industry, environment protection etc.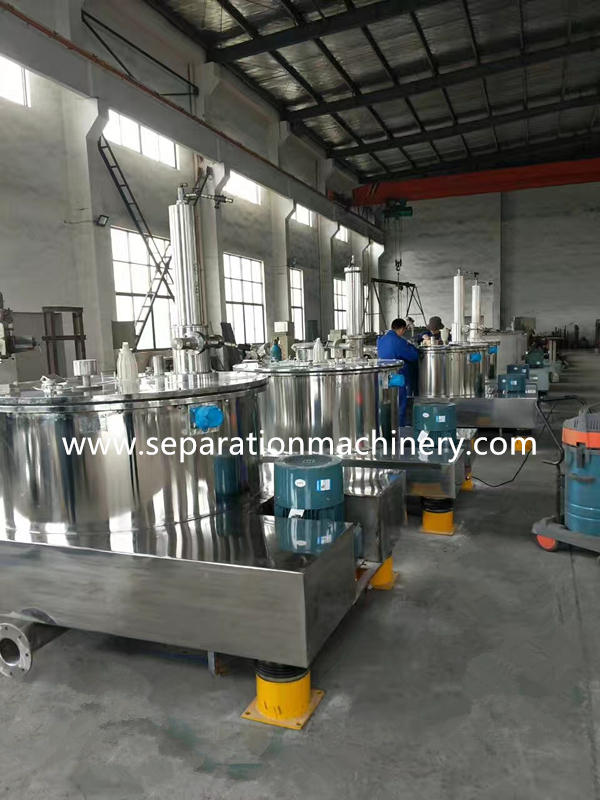 Main Features:
1.Closed structure, achieve the purpose of sealing explosion-proof, suitable for the application in poisonous, inflammable, explosive places.

2.Controlled by PLC, use inverting speed regulator and braking resistor, combined with hydraulic and pneumatic devices, to achieve manual or automatic operation.
3.With various protection functions, achieve full automatic of start, feeding, dewatering, washing, discharging, unmanned operation. It can clean from all angles, safe and stable, meet GMP standard.
4.Hydraulic scraper discharging system, it is a design of stainless steel closed hydraulic oil cylinder, which can contact the material directly.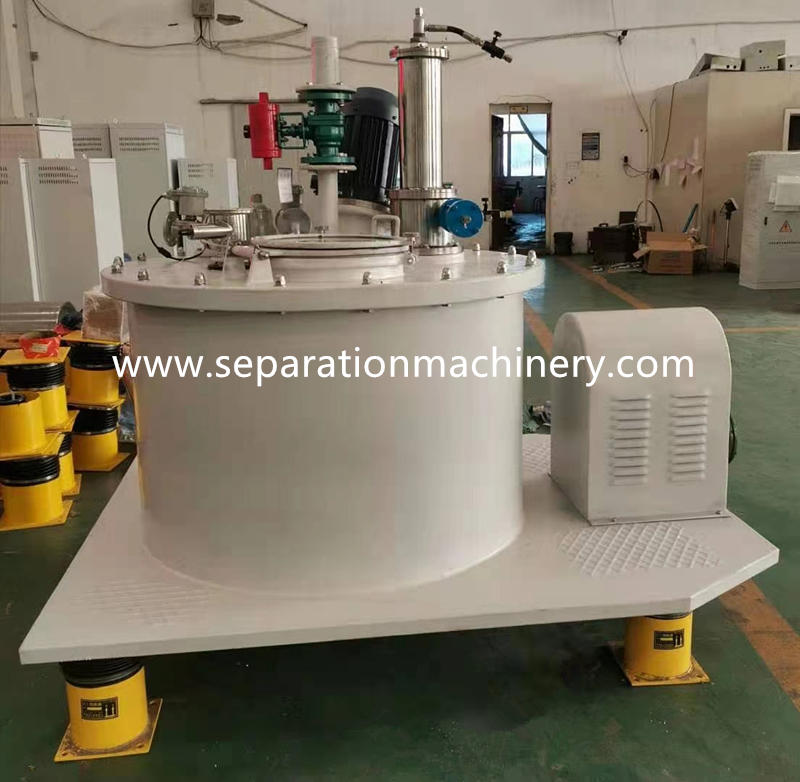 Applications:
Apply to separating the suspension containing particles, but also fibers, especially the highly sticky, containing micro particles, poisonous and flammable materials, like antibiotics, vitamins, and minerals, salts, gourmet powders, foodstuff additives, amylum, sugar, chemical flavors, thiamin, plasters, Glauber's salt, bluestone, potassium chloride, borax, dyestuffs, pigment, resin, pesticides, and environmental protection. The centrifuge is highly automated, has large capacity and can be remote-controlled.
Technical Parameters:
Model
PGZ800
PGZ1000
PGZ1250
PGZ1600
Bowl
Diameter
Kg
800
1000
1250
1600
Effective volume
L
115
175
300
775
Loading limit
Kg
155
250
350
800
Rotating speed
r/min
1200
1000
950
650
Separating factor
ω2r/g
1007
805
700
572
Motor power
kw
7.5
15
18.5
37
Dimension(L×W×H)
mm
1850×1450×2050
2000×1550×2150
2260×1800×2200
3300×2300×3100
Weight
kg
2500
3500
5000
8500