Product Description:
Multi-layer stainless steel wine plate frame filter is used in separating all kinds of suspension, and widely used in medicine, food, chemical, water treatment, electronic, textile and plating industry.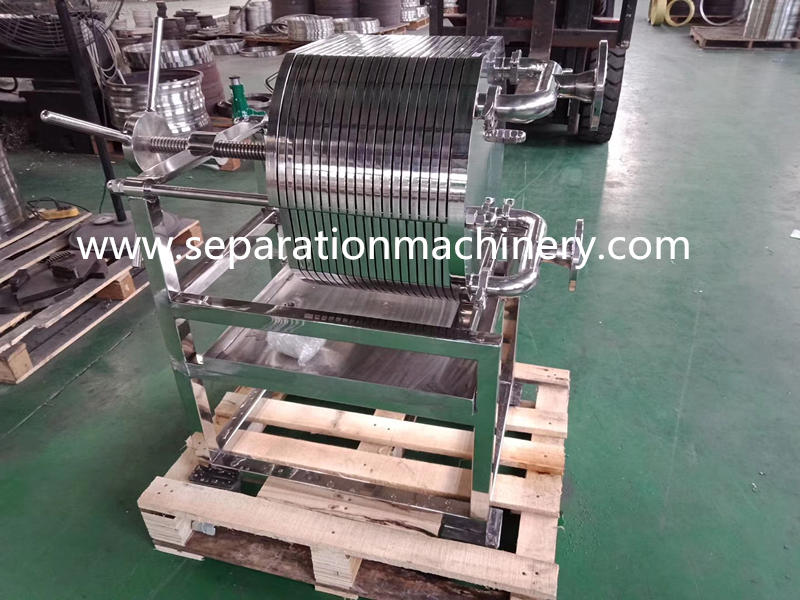 Characteristics:
This machine is made by SUS304 or SUS316L high grade stainless steel with corrosion resistance. Filter plate is designed screw structure, You can change different filter material according to different filter medium and productive technology. Y
Ou also can increase or decrease the quantity of layer according to your filter flow. When it is working, it filtrates with pressure seal, no lose of liquid and good clearity.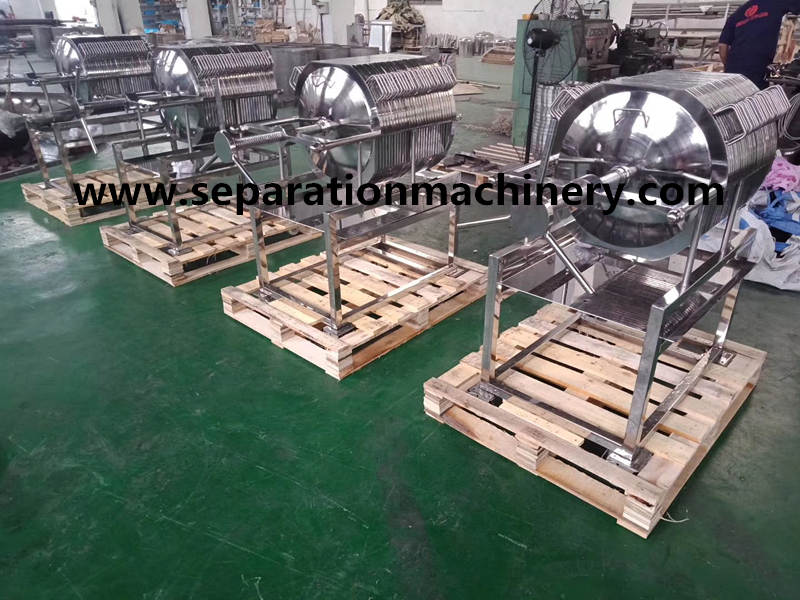 You can customize multistage filter device, first stage is rough filter stage, secondary is fine filter stage, then can safe time, also increase your filter ratings. The sealing part of this machine is silica gel seal with high-temperature resistance, non-poisonous and no leakage.
Structure and Principle:
The suspended solution is pumped into filter chamber, under the feeding pressure, the filter pass through the filter media and then discharged from the outlet. The solid will becomes to filter cakes. Thus realize solid liquid separation.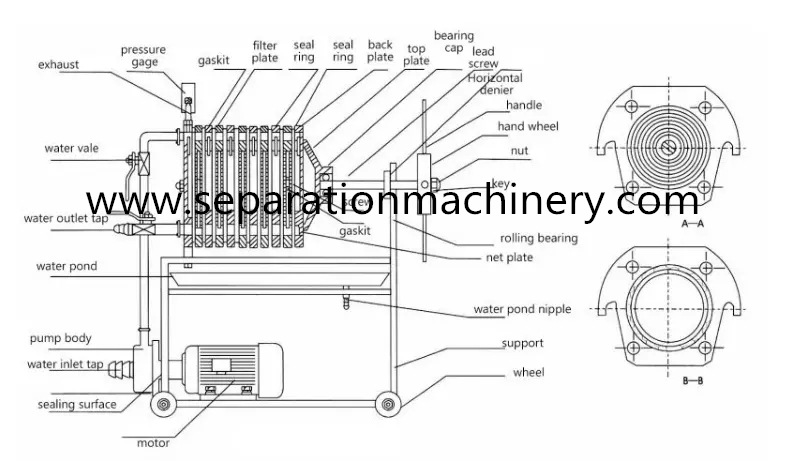 Application
1)Food Industries:
Yellow rice wine, liquor, fruit juice, beverage, beer, yeast, citric acid, plant protein, plant secretin, glucose, maltose, fixe d powder, rice flour, ban rice milk, gelatin, carrageenan, monosodium glutamate, spices, sauce, oral liquid, soy milk, seaweed.
2)Metallurgy Industries :
(gold, silver, copper, iron, zinc) concentrate/tailings, acid leaching/anode mud, etc.
3)Oil Industries:
white oil, sesame oil, sesame oil, cottonseed oil, lubricating oil, palm oil, a variety of animal oil, light oil,glycerin, machinery oil, vegetable oil.
4)Non-metallic ore Industries:
kaolin, bentonite, active soil, porcelain, electronic ceramic soil, phosphate rock, calcium carbonat
5)Sewage treatment :
chemical sewage, smelting sewage, electroplating sewage, leather sewage, printing and dyeing sewage, brewing sewage, pharmaceutical sewage, environmental sewage, etc.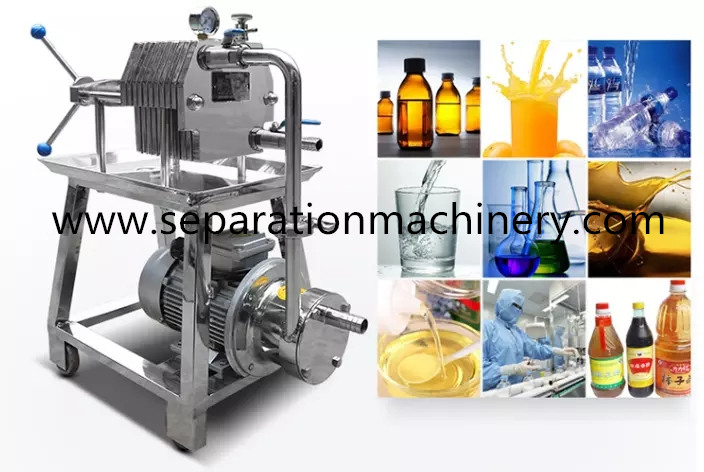 Technical Parameter:
Model
layers

Filter

area

(m²)

Filter plate Size

(mm)

Filter Medium

(μm)

Pressure

(Mpa)

WaterFlow

(T/h)

Power

(kw)

Dimensions(mm)
GRSBA 100-10
10
0.078
Ø100
0.8
0.1-0.3
0.8
0.55
600*300*600
GRSBA150-10
10
0.17
Ø150
0.8
0.1-0.3
1.5
0.75
650*380*650
GRSBA200-10
10
0.34
Ø200
0.8
0.1-0.3
2
1.1
650*400*700
GRSBA300-10
10
0.7
Ø300
0.8
0.1-0.3
4
1.1
700*500*800
GRSBA400-10
10
1.25
Ø400
0.8
0.1-0.3
6
1.1
900*600*1000
GRSBA400-20
20
2
Ø400
0.8
0.1-0.3
10
1.5
1100*600*1000
GRSBA400-30
30
3
Ø400
0.8
0.1-0.3
12
2.2
1300*600*1000


FAQ
1, Do you have manual with the machine?
Yes, of course. It is in English version.

2, Can you offer us the necessary paper to do the customs clearance?
Yes, of course. We will send you the commercial invoice, sales contract, packing list, bill of lading(FOB or CFR, CIF terms), insurance policy (if CIF terms), also CO if you need.

3. Can you help us to make our products?
Yes sure we can! OEM is warmly welcomed!

4. What is warrant period for the Machine?
Usually the guarantee period is 1 year, and we will keep contact with our
customers for after-sales service. We're aim to produce better machines and let our customers be satisfied.

5. How can i get quotation?
Just send email with requirement of product and you'll get prompt response from us.

6. If we have problems when using the Machine, what should we do?
If you have any problem, just contact us, we will help you to solve it, and if necessary, we will arrange our engineers to help you in your country.

7. What about the shipping methods?
For urgent order and light weight, you can choose express: FedEx, TNT, DHL or EMS; for heavy weight, you can choose by air or by sea to save cost.