Description
Stainless Steel Filter Press is named laboratory filter press or the stainless steel plate and frame filter press. Between the filter plate with frame, there is the filtering medium, such as, filter cloth, filter paper etc. And under the bottom, here is a bar to support the filtering medium. With filtering paperboard, it can filter various liquor, so that remove the bacteria.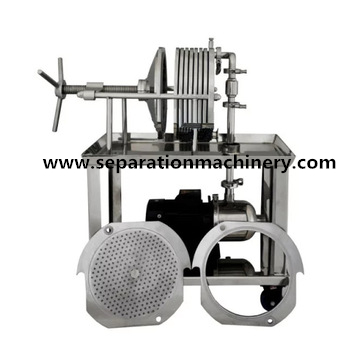 Features
All parts of the machine, except collocated dynamo,are made of stainless steel SUS304 or SUS316L, which is fit for filtering solution of different PH value. The machine adopts sealed pressure-filter,which results in low filter liquid waste, good filter quality and high filter efficiency. Filtering part consists of ten layers of filter plates , which has large filter area and flow. Users can change filter membranes according to different technological requirements(initial filter, precision filter, half-precision filter)of the filtered solution, and properly reduce or increase filter plate quantity according to users production flow. Hence, the machine is multifunctional and has wide application scope. Filter plates adopt flat screw-thread structure which is advanced, easy to clean, not easy to deform, thus effectively extends performance life of different filter membranes and reduces or save production cost. The stainless steel liquid infusion pump equipped on the machine has small dynamo and low power waste. Rubber wheels are fixed under the engine base for mobile use, which is flexible and convenient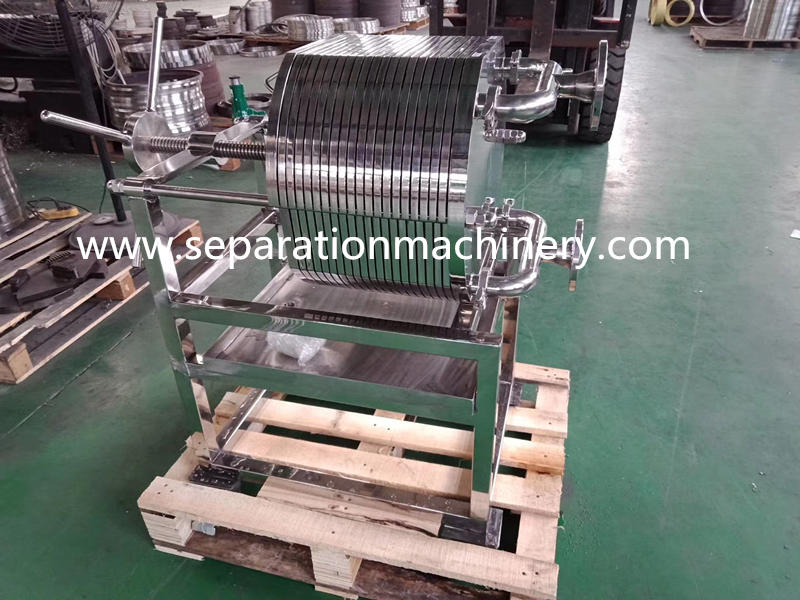 Structure and Principle
The suspended solution is pumped into filter chamber, under the feeding pressure, the filter pass through the filter media and then discharged from the outlet. The solid will becomes to filter cakes. Thus realize solid liquid separation.
Application
1)Food Industries:
Yellow rice wine, liquor, fruit juice, beverage, beer, yeast, citric acid, plant protein, plant secretin, glucose, maltose, fixe d powder, rice flour, ban rice milk, gelatin, carrageenan, monosodium glutamate, spices, sauce, oral liquid, soy milk, seaweed.
2)Metallurgy Industries :
(gold, silver, copper, iron, zinc) concentrate/tailings, acid leaching/anode mud, etc.
3)Oil Industries:
white oil, sesame oil, sesame oil, cottonseed oil, lubricating oil, palm oil, a variety of animal oil, light oil,glycerin, machinery oil, vegetable oil.
4)Non-metallic ore Industries:
kaolin, bentonite, active soil, porcelain, electronic ceramic soil, phosphate rock, calcium carbonat
5)Sewage treatment :
chemical sewage, smelting sewage, electroplating sewage, leather sewage, printing and dyeing sewage, brewing sewage, pharmaceutical sewage, environmental sewage, etc.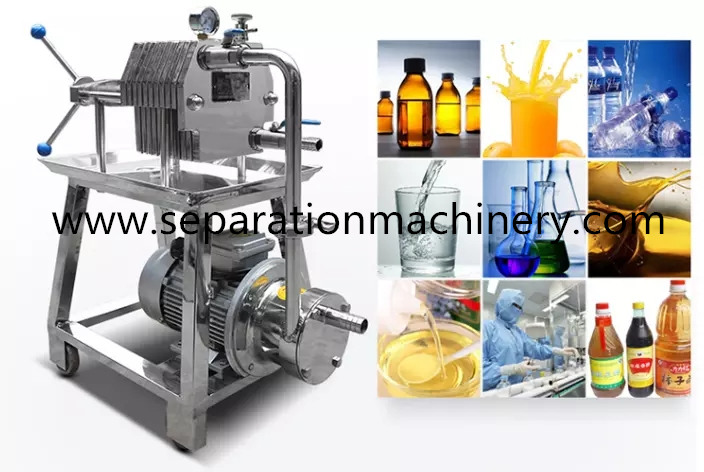 Technical Parameter
Model
layers

Filter

area

(m²)

Filter plate Size

(mm)

Filter Medium

(μm)

Pressure

(Mpa)

WaterFlow

(T/h)

Power

(kw)

Dimensions(mm)
GRSBA 100-10
10
0.078
Ø100
0.8
0.1-0.3
0.8
0.55
600*300*600
GRSBA150-10
10
0.17
Ø150
0.8
0.1-0.3
1.5
0.75
650*380*650
GRSBA200-10
10
0.34
Ø200
0.8
0.1-0.3
2
1.1
650*400*700
GRSBA300-10
10
0.7
Ø300
0.8
0.1-0.3
4
1.1
700*500*800
GRSBA400-10
10
1.25
Ø400
0.8
0.1-0.3
6
1.1
900*600*1000
GRSBA400-20
20
2
Ø400
0.8
0.1-0.3
10
1.5
1100*600*1000
GRSBA400-30
30
3
Ø400
0.8
0.1-0.3
12
2.2
1300*600*1000
FAQ
1, Do you have manual with the machine?
Yes, of course. It is in English version.

2, Can you offer us the necessary paper to do the customs clearance?
Yes, of course. We will send you the commercial invoice, sales contract, packing list, bill of lading(FOB or CFR, CIF terms), insurance policy (if CIF terms), also CO if you need.

3. Can you help us to make our products?
Yes sure we can! OEM is warmly welcomed!

4. What is warrant period for the Machine?
Usually the guarantee period is 1 year, and we will keep contact with our
customers for after-sales service. We're aim to produce better machines and let our customers be satisfied.

5. How can i get quotation?
Just send email with requirement of product and you'll get prompt response from us.

6. If we have problems when using the Machine, what should we do?
If you have any problem, just contact us, we will help you to solve it, and if necessary, we will arrange our engineers to help you in your country.

7. What about the shipping methods?
For urgent order and light weight, you can choose express: FedEx, TNT, DHL or EMS; for heavy weight, you can choose by air or by sea to save cost.