Brief Description:
Tubular Centrifuges are designed to separate low percentages (<2%) of suspended solids which are between 1 and 0.001 microns in size, and to separate two immiscible liquids of differing densities. Tubular Centrifuges operate at high speed, generating up to 20,000 gravities of centrifugal force, causing solids to collect inside the smooth bore of the stainless steel tube where they are easily recovered. Tubular Centrifuges are an excellent replacement for many traditional filter and membrane applications due to their high efficiency (virtually no product loss) and small footprint. Additionally, unlike traditional filters, they never require pre-coating or back-flushing and can never clog.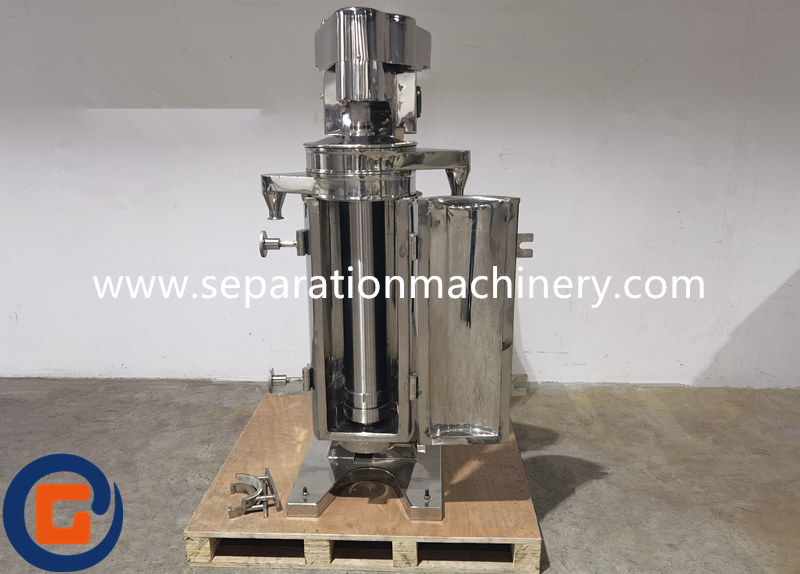 Working principles:
The machine is composed of main body, transmission device, drum, liquid collecting tray, and liquid-feeding bearing base. There is a flexible main axis on the top of drum, and a damping floating bearing at its bottom. With the linked buffering device, the main axis is connected with the passive wheel. Through the conveyor and the fastening wheel, motor provides power for the passive wheel, so the drum rotates around itself axis by high speed, and form strong centrifuge force field. Materials are launched from the bottom feeding inlet, by the centrifugal force, liquid flows upward along the drum wall, and is separated to layers because their different density.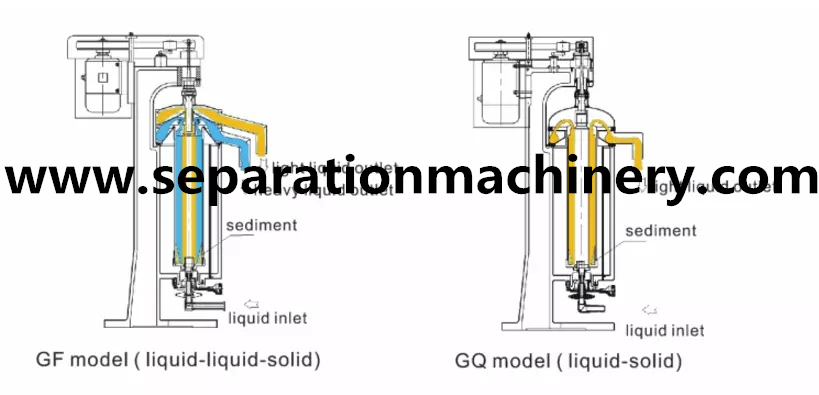 Feature:
The tubular centrifugal separation machines has high performance of separate factor, high capacity, and account for small area and easy to handle.
General tubular centrifuge separator has 2 model series.
GQ series,two phase that can separate solid from the liquid.
GF series, which can separate the water, solid from the oil.
The Application:
It has been widely used in pharmaceutical, health food, drinks, chemical industries to separate the liquid-solid or liquid-liquid-solid materials. It is an ideal centrifuge take advantage of centrifugal methods, the minimum granules is 1 um,which is suitable for distill, condense and clarify the material has small gravity difference, small and few solid granules and high erosion products.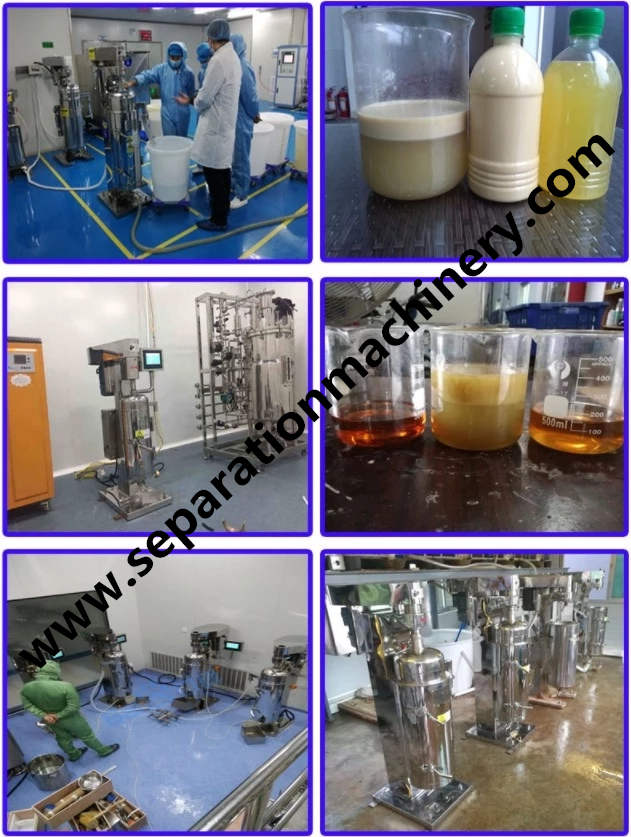 Technical parameter:
| | | | | | | | |
| --- | --- | --- | --- | --- | --- | --- | --- |
| Model | Unit | GQ/GF45 | GQ/GF75 | GQ/GF105 | GQ/GF115 | GQ/GF125 | GQ/GF150 |
| Bowl Diameter | mm | 45 | 75 | 105 | 115 | 125 | 150 |
| Bowl Speed | r/min | 10000-30000 | 19000 | 16300 | 16300 | 15000 | 13400 |
| Separation factor | -- | 19800 | 15200 | 15620 | 17000 | 15700 | 14300 |
| Bowl Volume | L | 0.45 | 2.2 | 6 | 7 | 8 | 10 |
| Throughput Capacity | L/H | 100 | 600 | 1200 | 1300 | 1500 | 2500 |
| Motor | kw | 0.55 | 1.5 | 2.2 | 3.0 | 3.0 | 3.0 |
| Weight | kg | 90 | 260 | 500 | 520 | 530 | 600 |
| Dimension(L*W*H) | mm | 500*420*760 | 760*450*1120 | 550*850*1600 | 600*900*1600 | 650*950*1600 | 700*1000*1600 |
More centrifuge separators: